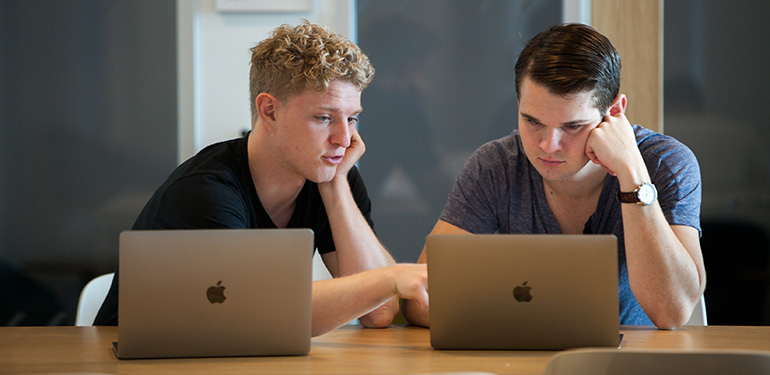 About the Department
The Computer Science (CS) Department at Northwestern University is recognized for technical excellence, whole-brain thinking, and highly interdisciplinary research. Northwestern CS equips students with the applied and critical thinking skills to lead the future in computer science while exploring how computer science can be leveraged for societal benefit.
Jump to a Section
CS+X Interdisciplinary Research Initiative
The CS+X initiative actively fosters transformational relationships between computer science and intersecting fields across Northwestern's top-ranked schools. Northwestern is one of very few research institutions with schools of engineering, medicine, law, journalism, communications and business ranked among the top 20, making it an ideal home for interdisciplinary research.
CS+X activities include:
Joint faculty appointments with medicine, law, journalism, economics, and learning sciences
CS+X workshops and research activities
Academic centers including Center for Computer Science and Learning Sciences and Center for Human-Computer Interaction & Design
Advising of PhD students in joint programs
Undergraduate Programs
Northwestern CS offers several undergraduate degree programs with ample opportunities for students to conduct undergraduate research. Students work in labs alongside graduate students and faculty members, and develop leadership skills in a variety of student groups and organizations. Students also are welcomed by a department culture of mentorship, support, and inclusion.
Graduate Programs
Northwestern CS offers a Master of Science (MS) in Computer Science and Doctor of Philosophy (PhD) in Computer Science, as well as several graduate degree programs in partnership with Northwestern departments and schools. Northwestern CS also offers affiliated master's degree programs, including the MS in Artificial Intelligence and new MBAi program with the Kellogg School of Management. Graduate students also build their network and develop leadership skills in a number of graduate-level student groups and organizations.
Department Leadership
Peter and Adrienne Barris Department Chair
Assistant Chair
Associate Chair for Undergraduate Education
Associate Chair for Graduate Studies
Director of the Master of Science in CS Program
Director of Graduate Students in Computer Engineering
Director of Graduate Admissions
Business Administrator
More in this section