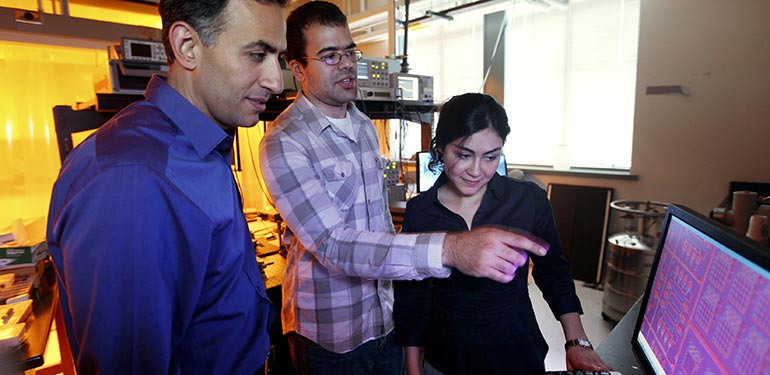 Academics

  /  

Graduate

  /  

PhD in Computer Science

Curriculum & Requirements for PhD Program
The PhD program trains students in the methods of research—how to formulate a research problem and how to proceed in a logical and systematic way to find its solution. Students are urged to select their research topics—and corresponding research adviser—as soon as possible. Full-time PhD students should identify a research adviser no later than the end of the first academic quarter of enrollment and will choose a research topic soon thereafter.
Jump to a Section
Admission to Candidacy
A PhD student receiving financial aid must be admitted to candidacy within three academic years of starting the program, or two academic years following completion of the MS degree. Admission to candidacy requires meeting the academic requirements of one of the CS programs of study and passing a qualifying exam for that program.
PhD Prospectus
Students must have a prospectus (dissertation proposal) approved by their committee no later than the beginning of the fifth year of study to remain in good academic standing. The prospectus must be approved by a faculty committee.
Final Exam
An announcement of the exam will be posted in the department. The student's file will be checked for any missing documents, grades, etc. that need to be completed for the exam and awarding of the degree. The file and the report of the committee on examination of candidate form will be given to the student's adviser prior to the exam and should be in the exam room for reference. After the exam, the report must be signed by all committee members. The student's adviser will return the completed signed paperwork and file it with the graduate coordinator's office immediately upon completion of the final exam.
Dissertation
Every candidate is required to present a dissertation indicating evidence of original and significant research. A copy of Instructions for the Preparation of Dissertations may be obtained from The Graduate School.
Teaching Trainee Requirement
All full-time doctoral students in CS must serve as either:
A teaching assistant (TA) for at least three quarters OR
A TA for two quarters and a teaching trainee (TT) for one quarter or a TT for two quarters
An instructor for a CS course or approved McCormick course for one quarter
One quarter of service as a McCormick graduate tech tutor may be substituted for one quarter of TT. This requirement must be fulfilled before graduation.
Registration
The total number of quarters required for a PhD from The Graduate School is eight. A student who receives an MS degree from Northwestern or a student entering with an MS degree from another university in an area relevant to the PhD degree can be granted up to six units of credit, if approved by the adviser and the department. These credits can only count toward the departmental requirements, not those of The Graduate School.
Programs of Study
Upon receiving a PhD, a candidate should have a solid background in his or her field as preparation for a career in research or teaching. To ensure that each student receives this background, students are required to choose and complete the program of study (POS). Students entering without the prerequisite knowledge to enroll in the POS courses will be required to take additional preparatory course work.
Each of the programs of study are housed in a research interest group, and the curriculum and requirements for each POS are available in the department's graduate study manual.
Graduate Study Manual
To see the curriculum and requirements for each program of study in each of the department's research interest groups, please download the department's graduate study manual:
Find study manuals, checklists, and forms for current graduate students.
More in this section