Message from the Chair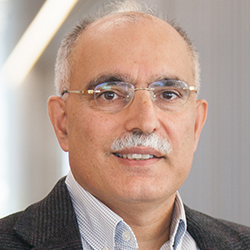 At Northwestern Computer Science we go beyond the boundaries of technical excellence, research, and innovation by asking, "How can the power of computing be leveraged for societal benefit? How can we best work across disciplines to discover new fields of study?" Through the exploration of these questions, we aim to lead the future in all areas of computer science with significant collaborations across the University.
Rapid growth
As part of our ambitious growth plan, we are in the midst of hiring 20 new tenure-track faculty members (10 in core CS areas, and 10 in collaborative CS+X areas) and more than doubling the size of our teaching faculty. In 2018, we also moved into a remodeled space in the Mudd Building, which unites our department and encourages collaboration and community spirit. As demand for computer science curriculum continues unabated at the undergraduate and graduate levels, we are committed to attracting the best and brightest who are passionate about joining in our pursuit of new areas of research. Explore careers
Exploding the possibilities of interdisciplinary research
We are deeply focused on developing an expansive vision of computer science through the CS+X initiative, which fosters ongoing collaborations and transformational relationships between computer science and disciplines within Northwestern's top-ranked schools. In recent years, we have hired jointly with statistics, learning sciences, and journalism. Moving forward, our focus is to hire CS+X joint appointments with Northwestern's top-ranked professional schools of medicine, law, and business.
At home in Chicago and its growing technology sector
Situated on Lake Michigan in the city of Evanston, along the northern border of Chicago, Northwestern's unique location provides both the comforts of home and career growth. Northwestern's Evanston campus is well connected to downtown Chicago by the Purple line, as well as to Northwestern's Chicago campus through an intercampus bus. Our faculty and students choose from a spectrum of suburban or urban home environments with some of the state's best school districts, all while enjoying the robust research partnerships Northwestern is developing with neighboring institutions and research organizations.
Inclusion and student support are in our DNA
Our culture is energetic and thoughtful, with faculty members who possess a tremendous amount of care and respect for student empowerment and growth. Inclusion is woven into our fabric — with an innovative curriculum tailored to welcoming underrepresented groups in computer science, a thriving Women in Computing student group, and a CS faculty diversity committee committed to supporting underrepresented groups in computer science.
We are whole-brain engineers, thinkers, and innovators. These values guide our department's exciting growth trajectory at one of the country's preeminent research institutions. Please join us as we lead the next frontiers of computer science.
Professor and Peter and Adrienne Barris Chair of Computer Science
More in this section