Samir Khuller Elected to CRA Board of Directors
Khuller aims to help better integrate research and educational activities through strong partnerships between academia and industry
Northwestern Engineering's Samir Khuller, the Peter and Adrienne Barris Chair of Computer Science, has been elected to the Computing Research Association (CRA) Board of Directors for a three-year term, effective July 1.
The CRA represents more than 250 North American academic, industry, and government organizations advancing computing research, including departments of computer science and computer engineering, research laboratories and centers, and affiliated professional societies.
As a board member, Khuller is eager to help better integrate research and educational activities through strong partnerships between academia and industry.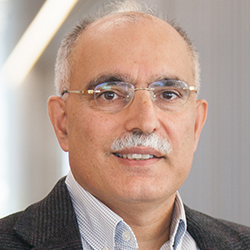 "I am keen on finding ways to provide more research opportunities for our students, and ways for students to find internship and mentoring opportunities with researchers and industry professionals outside their own schools and colleges who they might not have access to," Khuller said. "I look forward to serving the computing community and serving with this amazingly distinguished and dedicated team that will be leading CRA through the years. CRA has had major impact in the field of computing by constantly improving the climate, and striving to address issues impacting both our field and community."
Nominated by the CRA Elections Committee and elected by vote of CRA member institutions, the Board of Directors is a distinguished group of leaders in computing research from academia and industry.
Khuller joins the following new cohort of directors:
In 2022, Khuller was elevated to an Association for Computing Machinery (ACM) Fellow "for contributions to algorithm design with real-world implications and for mentoring and community-building."
Khuller was named a 2021 Fellow of the European Association for Theoretical Computer Science (EATCS). He also received the 2020 CRA-E Undergraduate Research Faculty Mentoring Award. Additional awards and honors include the NSF CAREER Award, Google Research Award, and CTE-Lilly Teaching Fellowship.
In 2016, Khuller earned the inaugural European Symposium on Algorithms (ESA) Test-of-Time Award for his work with collaborator Sudipto Guha on approximation algorithms for connected dominating sets.
From 2018-2021, Khuller served as chair of the ACM Special Interest Group on Algorithms and Computation Theory (SIGACT).
Prior to joining Northwestern in 2019, Khuller was a faculty member at the University of Maryland for 27 years, most recently as the Elizabeth Stevinson Iribe Chair of Computer Science in the University of Maryland's Department of Computer Science. Khuller received the University of Maryland's Distinguished Scholar Teacher Award and Dean's Award for Teaching Excellence.
The CRA Board of Directors will convene for a meeting July 13-14 in Portland, Oregon.