Samir Khuller Named EATCS Fellow
EATCS Fellows Program recognizes outstanding contributions to theoretical computer science
Northwestern Engineering's Samir Khuller, Peter and Adrienne Barris Chair and professor of computer science, has been named to the European Association for Theoretical Computer Science (EATCS) 2021 class of EATCS fellows.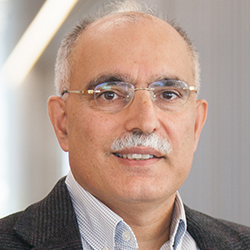 Established in 2014, the EATCS Fellows Program recognizes outstanding EATCS members for their scientific achievements in the field of theoretical computer science. The fellow status is conferred by a selection committee to members with a track record of intellectual and organizational leadership within the EATCS community. Khuller is one of six EATCS members selected for this honor. 
Khuller was recognized for "his fundamental contributions to the combinational approximation algorithms — specifically for work in graph algorithms and scheduling, and for mentoring and building community."
In Khuller's nomination letter, EATCS fellows Susanne Albers (Technical University of Munich), Mohammad Hajiaghayi (University of Maryland), Magnús Halldórsson (Reykjavik University), and Kurt Mehlhorn (Max Planck Institute) outlined Khuller's overall contributions to theoretical research and applied work in systems and databases, his accomplishments in student advising and mentoring, and leadership experience over his career. 
"A defining and unique feature of his work has been a focus on bridging the divide between theory and systems by abstracting clean optimization problem formulations from systems research and subsequently developing elegant combinatorial algorithms to address them.
"We feel that his major contributions to algorithm design, collaboration with researchers across different areas, and the introduction of new problems of study together with his mentoring of both graduate and undergraduate students and leadership in SIGACT make him an ideal candidate for EATCS Fellow."
Khuller's research interests include graph algorithms, discrete optimization, and computational geometry. He has written about these topics extensively in more than 200 journal and conference papers and book chapters.
The honor is the latest for Khuller, who received the 2020 CRA-E Undergraduate Research Faculty Mentoring Award, the National Science Foundation CAREER Award, Google Research Award, and CTE-Lilly Teaching Fellowship. In 2016, he earned the inaugural European Symposium on Algorithms Test-of-Time Award for his work with collaborator Sudipto Guha on approximation algorithms for connected dominating sets. He also received the University of Maryland's Distinguished Scholar Teaching Award as well as its Dean's Award for Teaching Excellence.