Honors and Awards
Samir Khuller Receives 2020 CRA-E Undergraduate Research Faculty Mentoring Award
Honor recognizes outstanding mentorship and guidance on admission and matriculation of students to research-focused graduate programs in computing
Northwestern Engineering's Samir Khuller, the Peter and Adrienne Barris Chair and professor in the Department of Computer Science, has been awarded the 2020 Education Committee of the Computing Research Association (CRA-E) Undergraduate Research Faculty Mentoring Award.
The annual honor recognizes outstanding individuals for providing exceptional mentorship, undergraduate research experiences, and guidance on admission and matriculation of students to research-focused graduate programs in computing.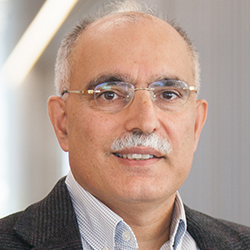 "We are incredibly proud to see Samir honored for his dedication to undergraduate mentorship," said Julio M. Ottino, dean of the McCormick School of Engineering. "Education is a top priority for computer science at Northwestern, and Samir's commitment to supporting the next generation of computer science researchers is truly a remarkable gift to our students."
Khuller has mentored 28 undergraduate students over the past 10 years during his tenure at Northwestern Engineering and as former professor of computer science at the University of Maryland. Roughly half of his mentees are women, and a number of his mentees have matriculated into prestigious graduate programs at universities including Stanford, MIT, University of California at Berkeley, Georgia Tech, University of Washington, Princeton, Duke, CalTech, and University of Maryland.
One of Khuller's mentees has been recognized by the CRA Outstanding Undergraduate Researcher Award as the national winner, many received honorable mentions, and several received National Science Foundation (NSF) Graduate Research Fellowships.
As his nomination letter writer wrote: "I can attest first-hand to the many hours he devotes to his students and to the numerous ways that he inspires, motivates, and nurtures their growth. [Khuller] has a real knack for quickly understanding a student's particular strengths and so is able to suggest problems that, while challenging, are well suited to the student's skills."
Khuller's additional honors include NSF's Career Development Award and the CTE-Lilly Teaching Fellowship. He also received the University of Maryland's Distinguished Scholar Teacher Award as well as its Dean's Award for Teaching Excellence.