ENGINEERING NEWS
Events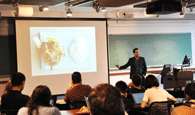 Artist-at-large for Northwestern Engineering and the Block Museum, Robleto gave the second Seminar Series lecture about cross-disciplinary collaboration between art and science.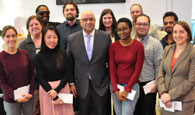 Nineteen Northwestern Engineering staff members were recognized for serving the school for five to 20 years.
Professor Julius Lucks will use the grant to develop a low-cost field test to improve crop disease surveillance.
More Stories
Northwestern Engineering
Magazine
Engineering undergraduate researchers spend summer break making new discoveries in science and about themselves.
Featured Videos
Professor Kristian Hammond discusses why the change brought about by AI has only just begun.

The 2018 Leadership Studio challenged students to design solutions with local high schoolers.

Professor Luis Amaral sifts through data to find at least four distinct clusters of personality types exist.
More Stories
IN THE MEDIA