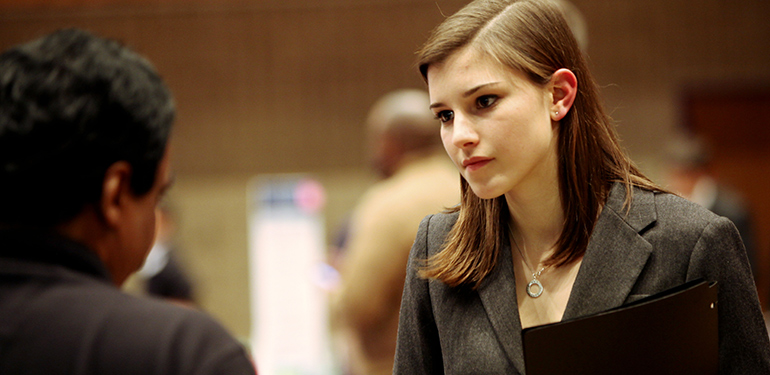 Personal and Career Development
Throughout your academic career at McCormick, you will receive continual support in all areas from our advising network to ensure you become a well-rounded engineer and a well-rounded person.
Jump to a Section
As a first-year student, you will be matched with a staff member in the McCormick Advising System who will help you navigate the beginning of your studies and ensure your academic career has a strong start.
Once you have declared your major, you are paired with a faculty member in your department or field who can provide you with ongoing support throughout your studies.
McCormick and Northwestern are invested in the personal growth of each student. Throughout your studies, you can take advantage of a wide range of opportunities to gain the skills and experiences that meet your personal development goals.
The Personal Development StudioLab is a space where you can develop your life approach through awareness, understanding, and response to your physical, emotional, and cognitive experiences, igniting your curiosity and transforming you into a whole-brain thinker.
Career Development
As you consider your career goals, McCormick will help you gain the skills, experience, and connections for your next step.
McCormick offers undergraduates individual career advising as well as opportunities to develop hands-on workplace experience in tandem with on-campus studies. This provides an important advantage as you begin your professional career.
The primary focus of Engineering Career Development (ECD) is to enhance each student's unique career plan. ECD offers both students and employers a mutually beneficial means of connecting in the world beyond the classroom.
ECD provides career preparation and employment assistance for:
Cooperative Education
Internships
Research Experience
Service Learning
First destinations after graduation
ECD administers the Walter P. Murphy Cooperative Engineering Education (Co-op) Program, which allows you alternate periods of academic study with full-time periods of paid work experience related to your academic and professional goals.
Through a combination of internship experience and business coursework, the Business Enterprise Certificate program improves your ability to make a contribution in the workplace as soon as possible after finishing your McCormick degree. Please note that this certificate program is not offered to new students beginning in Fall 2019.
More in this section