Northwestern CS Announces Spring 2023 Outstanding Teaching Assistant and Peer Mentors
Each quarter, Northwestern Computer Science honors and recognizes students who demonstrate excellence in computer science mentoring and teaching with Peter and Adrienne Barris Outstanding Teaching Assistant and Outstanding Peer Mentor awards.
Nominated by any member of the department for service to the CS community that goes beyond expectations, the teaching assistants and peer mentors work with faculty to deliver courses and support of the highest quality.
"Our teaching assistants and peer mentors are an integral part of the Northwestern CS team and provide invaluable service both to fellow students and to faculty," said Samir Khuller, Peter and Adrienne Barris Chair of Computer Science at Northwestern Engineering. "We are delighted to recognize the commitment and dedication of these exemplary students."
The spring 2023 awards committee included Connor Bain, assistant professor of instruction; Andrew Crotty, assistant professor of computer science; Branden Ghena, assistant professor of instruction; Miklos Racz, assistant professor of computer science and assistant professor of statistics at Northwestern's Weinberg College of Arts and Sciences; Vincent St-Amour, associate professor of instruction; and Xinyu Xing, associate professor of computer science.
Sen Lin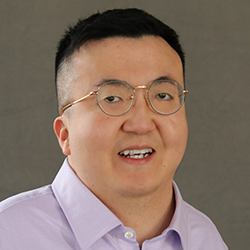 Lin, a third-year PhD student in computer science, was named the Peter and Adrienne Barris Outstanding Teaching Assistant for the spring 2023 quarter in recognition of his service to students in the COMP_SCI 340: Introduction to Computer Networking course.
"By extending his office hours or being reachable and available for students outside normal hours, Sen made sure that his students were getting the help they needed," a nominator said.
Lin is a member of the Northwestern Networks Group, advised by Aleksandar Kuzmanovic, professor of computer science at the McCormick School of Engineering.
Lin's research centers around building novel networking systems that optimize public-facing services. During the past decades, numerous data center optimization techniques and systems have been developed for private data centers but are rarely deployed in public-facing data centers due to the challenges of obtaining traffic knowledge and exchanging flow optimization signals. Lin is currently working on a project to activate multiple data center advancements in public-facing data centers through a mechanism designed to collect and feed application-layer knowledge into the packets of legacy protocols.
"As computer science continues to garner unprecedented attention in today's world, I increasingly recognize the significance of computer networking research, a field that serves as the backbone for numerous applications, big and small," Lin said. "I am driven to explore the integration of network research with other domains, aiming to facilitate more efficient communication by bringing domain-related knowledge and then enhancing the overall performance of the domain applications."
Lin is honored by this recognition of his dedication and considers this award a confirmation that students deemed the course to be effective, engaging, and inspiring.
"As a doctoral student, I constantly juggle the dual responsibilities of a mentee and a mentor," Lin said. "Acting as a TA enables me to reciprocate and promote the ongoing progression of the computer science community. My utmost joy is hearing from students that they've been inspired and their interest in the system and networking areas has deepened."
Spring 2023 Outstanding Peer Mentors
The Northwestern CS peer mentor program is designed to ensure that students representing a range of computing backgrounds receive individual attention and real-time feedback.
Moises Attie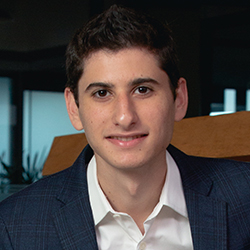 Attie is a second-year student pursuing a bachelor's degree in economics with minors in computer science and business institutions from Northwestern's Weinberg College of Arts and Sciences.
Nominators highlighted Attie's support of students in the COMP_SCI 111: Fundamentals of Computer Programming I course and his approach to 'planting the seeds for success' in subsequent classes.
"Moises was a true guide and shepherd," a nominator said. "He consistently and patiently leads students in the right direction without ever taking them directly to their destination."
Attie has learned valuable lessons as a peer mentor and reflected on the mutual benefit of teaching and learning.
"What I value the most from sharing my knowledge is that I learn as much as I get to share," Attie said. "I'm thankful to the students in CS111 for all of their support and for everything they've taught me. This award is an attestation of our collective ability to learn from each other, the great class environment that is possible, and of Sara Sood as an incredible leader for CS111."
Interested in the intersection of economics and leadership with technology, Attie seeks to leverage technology to increase financial accessibility. Long-term, he aims to pursue a master of business administration and launch a startup venture.
Attie is a member of the Latin American Student Association (LASA). He runs the antibullying nonprofit Ni Uno Mas, which he cofounded in 2018 in his hometown of Panama City, Panama.
Maria Fernandez Davila Pastor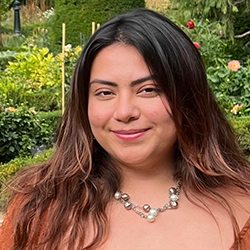 Pastor is a third-year student earning a bachelor's degree in physics with a minor in computer science at Weinberg. Students in the COMP_SCI 110: Intro to Computer Programming course praised her exemplary work ethic and dedication, as well as her initiative in organizing exam preparation sessions.
The experience of peer mentoring has encouraged Pastor to pursue graduate school and a career as a professor.
"Many of us struggle in undergrad not really knowing what we want to do with our lives after college. I have spent endless hours thinking about this and have gone back and forth about whether I wanted to pursue a PhD program," Pastor said. "Being a peer mentor allowed me to have some teaching experience and I completely loved interacting with students and helping them understand new topics."
Pastor is currently working in the laboratory of Tim Kovachy, assistant professor of physics and astronomy at Weinberg, to implement a method of refining laser outputs called interjection locking. She is a member of We're in Physics (WIP), an undergraduate organization formed to aid in the retention and enrich the experience of women and nonbinary undergraduate physics majors by providing professional development support, mentorship, and community building.
Pastor describes the role of a peer mentor as both a guide and friend.
"You're there to let students know that they're not alone in their journey to immerse themselves in the world of computer science, and that you'll be willing to help them with any questions they have with zero judgement," Pastor said.
Antonio Rocha
Rocha graduated this month with a bachelor's degree in computer science from Northwestern Engineering. He plans to work at Microsoft as a software engineer.
Rocha was praised for his preparation by students in the COMP_SCI 211: Fundamentals of Computer Programming II course. Nominators appreciated his friendly and down-to-earth personality, finding him uniquely easy to approach and eager to help.
"He was always ready for anything, and no question or confusion was beyond his abilities," a nominator said.
Rocha is grateful for the opportunity to help empower students in their academic and professional careers.
"It is our job as peer mentors to ensure that the voices of the students are heard by the course instructor," Rocha said. "We can use these experiences to improve not only the course, but the experience of future students. The end goal is to provide our students the resources to be successful both inside and outside of the classroom."
Passionate about finding ways to make technology more accessible to underrepresented groups, Rocha is a member of the Technological Innovations for Inclusive Learning and Teaching (tiilt) Lab led by Marcelo Worsley, assistant professor of computer science at Northwestern Engineering and assistant professor of learning sciences in Northwestern's School of Education and Social Policy. Through the tiilt Lab, Rocha volunteered at the Boys and Girls Club of Chicago to help educate youth about artificial intelligence technology.
A first-generation college student, Rocha participated in the Knight Community Scholars Program through Northwestern's Student Enrichment Services, the Melville and Jane Hodge EXCEL Scholars Program, and QuestBridge Scholars Network.
John Sanchez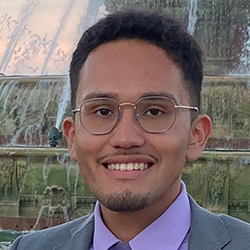 Sanchez, a third-year student in computer science at Northwestern Engineering, has served as a peer mentor for CS 211 for the past five quarters. Nominators praised Sanchez for his patience, thoroughness, and availability.
"John's extensive experience means he understands the workings of the class inside and out and was able to provide valuable insights about what did and did not work," a nominator said.
Sanchez explained that students may perceive peer mentors as more approachable than instructors.
"Peer mentors have gone through the course and understand what it feels like to struggle in the class. CS 211 gave me confidence for my future classes and projects, but I did not understand topics right away," Sanchez said. "The intro classes are perfect for practicing and making mistakes. People learn through their failures, and I try to show that to students: embrace your mistakes!"
A member of Worsley's tiilt Lab, Sanchez is a project lead on the MultiCraft project, a voice and gaze interaction interface for Minecraft. Sanchez is developing a scalable, multimodal interface system to empower individuals with physical impairments to play and create in the video game.
Sanchez plans to complete an internship at Amazon this summer. He aims to continue working as a software engineer after graduation and write programs that help and change people's lives for the better.
Sanchez previously served on the executive board for Northwestern's chapter of the Society of Hispanic Professional Engineers (SHPE) as the MentorSHPE chair and vice president. He is currently a general member and attend events to promote a community of Hispanic engineers.
"I am a first-generation, low-income student that got introduced to programming my first year at Northwestern," Sanchez said. "With this award, I hope to inspire students and reassure them that they are not alone and that they can ask for help — not just for homework —but also how to navigate Northwestern and the CS curriculum."
Marko Veljanovski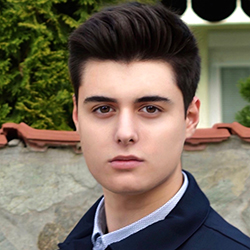 Veljanovski is a second-year student pursuing a double major in computer science and mathematics. Nominators highlighted his patience, passion, and deep knowledge in the COMP_SCI 214: Data Structures and Algorithms course.
"Marko consistently adapted his explanations to make sure he connected with students," a nominator said. "He also draws connections between course concepts and more advanced topics, getting his students excited about what they'll encounter in future classes."
Veljanovski noted the informal dynamic between peer mentors and students that allows for a friendly and approachable atmosphere in which students can seek assistance with their assignments and feel comfortable discussing their thought process.
"As undergraduates, peer mentors share a similar age and life experience with their mentees, which naturally facilitates a more organic and lighthearted interaction," Veljanovski said. "I am extremely appreciative for this honor, viewing it as not only a personal achievement but also a reflection of the trust and appreciation from all the students I worked with. It inspires me to continue creating a positive impact for students, and I will be forever grateful for the opportunity to contribute to their educational journey."
Veljanovski received a McCormick Summer Research Award and an additional research stipend to pursue research this summer in causal inference in natural language processing, advised by Zach Wood-Doughty, assistant professor of instruction in Northwestern Engineering. Veljanovski is interested in developing more realistic and flexible data-generating processes for the evaluation of causal inference methods.
"I am most passionate about machine learning, both due to its theoretical and mathematical underpinnings, and immense applied power in language and vision," Veljanovski said.
Veljanovski is the lead of the Northwestern University Robotics Club drone team. They are currently working on a drone which can autonomously transport boxes with the use of several proportional–integral–derivative loops and a custom-trained object detection model.
As a member of Northwestern University's Student Chapter of the Institute of Electrical and Electronics Engineers, Veljanovski's team won the best impact award for ReMedi, an AI-based health and medication management web app. Veljanovski plans to pursue a PhD in the field of artificial intelligence.