Building Mentoring Relationships and Peer Networks at CRA-WP Grad Cohort for Women
The annual Computing Research Association (CRA) Widening Participation (WP) Grad Cohort for Women workshop provides an opportunity for women in the early stages of their graduate studies in computing to build mentoring relationships and develop peer networks.
As a member of the CRA and department sponsor of the CRA-WP Grad Cohort for Women, Northwestern Computer Science received full support for three graduate students to attend the 2023 conference last month in San Francisco. In addition, the department funded three additional students to attend the conference.
Of the nearly 700 students that applied to participate, Connie Chau, Melissa Chen, Lily Ge, Radhika, Yunqing Sun, and Mara Ulloa joined more than 250 other participants at the conference.
Thirty leaders and senior researchers in academia, industry, and government laboratories led sessions including "Career Paths and Job Search," "Teaching Your First Course," and "Publishing Your Research." In the "Strategies for Human-Human Interaction" session, speakers discussed strategies for productive interaction with colleagues (both faculty and students), including the opportunities and challenges of being a woman in a computing technology career.
The Northwestern attendees were particularly motivated by the keynote address presented by Margo Seltzer, Canada 150 Research Chair in Computer Systems and Cheriton Family Chair in Computer Science at the University of British Columbia. Seltzer used the metaphor of a three-legged stool to discuss balance across important "pillars" of life.
"For most of us, one of the legs is definitely research and school, but we need other pillars to keep our stool standing," Chau said. "Grad school can feel isolating and it's really important that we are able to build not just an intellectual academic community, but one that is based on empathy, compassion, and solidarity. We can all do a little better to reflect on who we are, why we're here, and what we can do for others to really give each person here a chance to really flourish as an academic and a person. And pay that forward."
"The talk not only strongly motivated the need for work-life balance, but also provided actionable takeaways or advice to actually develop that for ourselves," Chen said.
"Only one leg should be research," Garg said. "The stool can be unbalanced sometimes but it allows us to view our lives holistically."
"Even though research is important to us, only having 'one leg' of a three-legged stool can make it harder to balance," Ge said. "It is important to have support that is meaningful to you on top of research."
We asked the students about the importance and benefits of attending this type of mentoring conference, their experience attending the CRA-WP Grad Cohort for Women, and an especially resonant piece of advice or perspective they gained from the event.
Connie Chau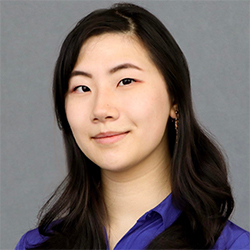 Chau is a second-year PhD student in the joint Technology and Social Behavior program with Northwestern's School of Communication.
Chau noted that conferences like the CRA-WP Grad Cohort for Women are helpful for those who are newer to academia and looking for guidance on how to navigate graduate programs. She appreciated the opportunity to network with students from other universities.
"Opportunities like this are really helpful in building a sense of belonging, especially in a field/department where both the student body and faculty could be much more diverse," Chau said. "Workshops catered to students makes networking a little easier, less intimidating, and it feels like you're really there to build friendships with people who will likely grow with you along your academic journey."
Chau is advised by Maia Jacobs, Lisa Wissner-Slivka and Benjamin Slivka Professor of Computer Science at Northwestern Engineering and assistant professor of preventive medicine at Northwestern's Feinberg School of Medicine.
Melissa Chen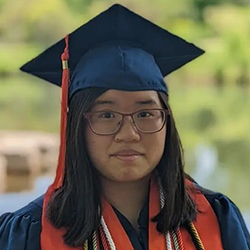 Chen, a first-year PhD student in computer science at Northwestern Engineering, felt energized by the advice and support she received at the conference, and found the sessions focused on bigger-picture aspects of graduate study particularly beneficial.
"The opportunity to zoom out and look at the PhD timeline as a whole was a major benefit of the conference. I find it really easy to get caught up in the day-to-day aspects of my research, but I struggle to visualize what the further future would look like and be strategic about working toward those goals," Chen said. "The conference had a lot of helpful sessions for understanding things like proposing thesis research, grant writing, networking, and practicing resilience."
Chen is advised by Eleanor O'Rourke, assistant professor of computer science at the McCormick School of Engineering and of learning sciences in the School of Education and Social Policy.
Lily Ge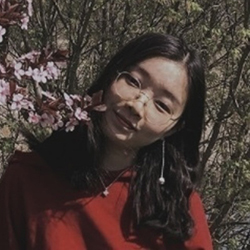 Ge is a second-year PhD student in computer science. She underscored the conference's goal of facilitating connections among peers and mentors in the computing field.
"The energy, excitement, and knowledge everyone brings are truly inspiring," Ge said. "Research is largely interdisciplinary, so opportunities like this can really facilitate communication among people with diverse backgrounds."
Ge is advised by Matthew Kay, assistant professor of computer science at Northwestern Engineering and of communication studies at Northwestern's School of Communication.
Radhika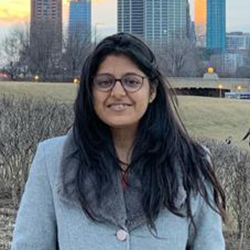 Radhika is a first-year PhD student in computer science at Northwestern Engineering. She highlighted the connections she made with other students engaged in computing research and the opportunity to showcase her work. She benefited from learning about other's experiences in the field.
"Numerous prominent figures in the field shared their journeys, granting us a unique opportunity to glean insights and knowledge from their experiences," Garg said.
Radhika is advised by Xiao Wang, assistant professor of computer science at Northwestern Engineering.
Yunqing Sun
Sun is a second-year PhD student in computer science, advised by Wang. She met and connected with women in computer science at the conference.
"I was able to listen to other people's ideas and experiences, and I could contribute to this community with my own experiences and ideas," Sun said. "As an international student coming to the US for my PhD studies, I wanted to expand my network and exchange ideas with people from both similar and different academic and cultural backgrounds. The workshop allowed me to connect with women in this field who share the same vision."
Mara Ulloa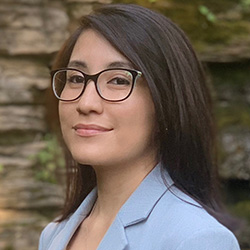 Ulloa is a second-year PhD student in computer science, advised by Jacobs. Ulloa was particularly inspired by the session "Preparing Your Thesis Proposal and Becoming a PhD Candidate," led by Ming Lin, Barry Mersky and Capital One Endowed Professor and Distinguished University Professor of Computer Science, University of Maryland.
"Becoming a PhD candidate and defending your thesis are natural stages of a PhD program. These concepts, however, are somewhat nebulous to junior researchers," Ulloa said. "Lin outlined what should be included in the proposal and provided advice for selecting a committee member and managing the other various tasks involved like proposal writing, immersing yourself in the literature, and disseminating your research."
Ulloa described the event — attended by highly-motivated women in computing from across the US and Canada — as "unlike any other."
"We were brought together at CRA-WP by our collective vision of creating technology that tackles societal challenges in areas like misinformation, healthcare disparities, and CS education," Ulloa said. "We shared advice ranging from career development in research to valuable insights from the decades of personal and professional experience of other women leading the event."