Hammond Named Finalist for ITA 'Technologist of the Year' Award
The winner is selected, in part, based off of public voting, so vote for Prof. Kristian Hammond to win!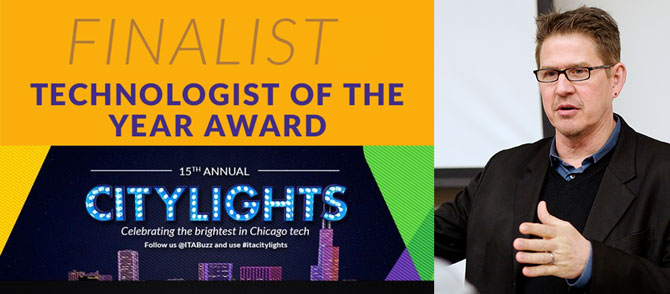 Prof. Kristian Hammond has been announced as a finalist for Chicago CityLights Technologist of the Year award sponsored by the Illinois Technology Association. He is currently tied for the lead, while the next decision will be based on voting through the website and social media.
The 16th Annual ITA CityLIGHTS program honors companies and individuals whose innovation and success drive growth in the technology industry and Illinois. The Technologist of the Year Award is presented to the individual whose talent has championed true technology innovation, either through new applications of existing technology or the development of technology to achieve a truly unique product or service.
The public can contribute to the selection of this year's winners by voting from August 10–August 28 at: https://www.illinoistech.org/citylights?Finalists=true
The winners for each of the eight categories will be announced at the ITA CityLIGHTS Awards on Thursday, September 17 at Morgan Manufacturing in Chicago. Each year, ITA CityLIGHTS Awards attracts more than 650 people from 400 organizations including business owners, investors, legislators and policymakers.
Why vote for Prof. Hammond? In addition to being Narrative Science's Chief Scientist, He is a professor of Computer Science and Journalism at Northwestern University. Prior to joining the faculty at Northwestern, Prof. Hammond founded the University of Chicago's Artificial Intelligence Laboratory. His research has been primarily focused on artificial intelligence, machine-generated content and context-driven information systems.

Prof. Hammond has 30 years of experience leading cutting-edge research in Artificial Intelligence and has brought this work out of academia into the private sector by co-founding Narrative Science. He is a true innovator of a truly unique technology that revolutionizes the way businesses, organizations and people in general, understand and communicate insight from data.
A panel of accomplished judges representing the Who's Who in Illinois technology reviewed nominations to select the finalists. Winners will be determined by composite score (50 percent judges; 50 percent community voting) in all categories except the CityLIGHTS Award, which is determined solely by the ITA Board of Directors.
If you Tweet, please mention ITA as well, by using: @ITAbuzz http://ita.cx/2015CLvote