Building an Impactful Open-Source Ecosystem for Machine Learning Prototyping
A multi-institution team led by Professor Seda Ogrenci received a Phase 2 NSF Pathways to Enable Open-Source Ecosystems award
A Python package called hls4ml enables more efficient prototyping of machine learning (ML) algorithm implementations by translating models written in popular open-source languages such as PyTorch and Keras into specialty descriptions used by digital circuit designers.
Accessible machine learning algorithms, software, and diagnostic tools for energy-efficient devices and systems are extremely valuable across a broad range of application domains. In scientific domains, real-time near-sensor processing can drastically improve experimental design and accelerate scientific discoveries.
To cultivate the creation of new open-source ecosystems for innovative solutions to such technology challenges, the National Science Foundation (NSF) launched the Pathways to Enable Open-Source Ecosystems (POSE) program within the Directorate for Technology, Innovation and Partnerships.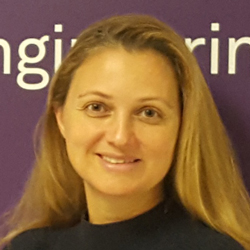 A multi-institution partnership led by Northwestern Engineering's Seda Ogrenci is among the 19 teams selected for POSE Phase 2 funding to support the transition of promising open-source products into secure, sustainable, and impactful open-source ecosystems.
The two-year, $1.5 million Phase 2 project titled "An Open Source Ecosystem for Collaborative Rapid Design of Edge AI Hardware Accelerators for Integrated Data Analysis and Discovery" aims to innovate and deploy infrastructures and management solutions to support developers and users of hls4ml, ultimately leading to a ML hardware design automation community that bridges hardware and domain experts.
Ogrenci, a professor of electrical and computer engineering and computer science at the McCormick School of Engineering, is the principal investigator (PI) of the POSE project. Co-PIs include Ahmet Enis Cetin and Amit Ranjan Trivedi (University of Illinois Chicago), Mark Neubauer (University of Illinois Urbana-Champaign), and Sule Ozev (Arizona State University). Jagadeesh Yedetore, a staff member with the Discovery Partners Institute, is senior personnel on the project.
Additional collaborators include Farah Fahim, Nhan Viet Tran, and Giuseppe Di Guglielmo, all adjunct faculty members of Northwestern Engineering's Department of Electrical and Computer Engineering and personnel at the US Department of Energy Fermi National Accelerator Laboratory.
To build a support infrastructure for hls4ml, Ogrenci's team plans to develop several components, including user training modules, automated testing and validation procedures for new hls4ml contributed features, security validation of developers, review and vetting procedures for quality control of the tool set, and a system for hls4ml users and developers to report and request features.
"The ecosystem will allow application and domain experts from a wide range of disciplines to successfully utilize automated design flows to create custom machine learning computational systems, enhancing productivity and enabling technology development and scientific discovery," Ogrenci said. "The synergy catalyzed between domain experts and hardware experts will help the machine learning community create powerful co-design methodologies and train the next generation of experts in the data-driven workforce."
The proposed hls4ml ecosystem will manage access to a catalog of pre-designed and validated software packages and intellectual property hardware blocks.
"POSE offers a unique opportunity for innovators to create and grow sustainable, high-impact, open-source ecosystems," said Barry Johnson, director of the NSF TIP Translational Impacts Division. "These projects will support the POSE program vision to ensure more secure open-source products, increased coordination of developer contributions, and a more focused route to impactful technologies."
Ogrenci's project is one of two POSE Phase 2 projects led by Northwestern Engineering faculty. Professors Uri Wilensky and Michael Horn are co-PIs on a separate $1.5 million POSE Phase 2 project, titled "Cultivating Modeling Literacy and Practice through a NetLogo Open Source Ecosystem." This project aims to transform the existing open-source NetLogo agent-based modeling codebase into a sustainable ecosystem that supports the natural and social science modeling community investigating a wide range of phenomena, including biological ecosystems, molecular and chemical interactions, economic systems, and spread of contagious disease.
Wilensky is the Lorraine Morton Professor of Learning Sciences in Northwestern's School of Education and Social Policy (SESP) and of computer science in Northwestern Engineering. Horn is a professor of computer science at Northwestern Engineering and professor of learning sciences at SESP. Wilensky and Horn are codirectors of Northwestern's joint PhD program in Computer Science and Learning Sciences (CS + LS).