V.S. Subrahmanian Named Fellow of the Asia-Pacific Artificial Intelligence Association
Head of the new Northwestern Security and AI Lab, Subrahmanian focuses on the intersection of AI and security problems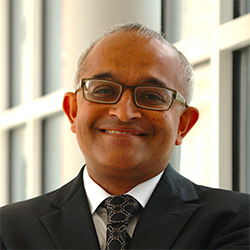 V.S. Subrahmanian, Walter P. Murphy Professor of Computer Science in Northwestern Engineering and a faculty fellow at the Northwestern Roberta Buffett Institute for Global Affairs, was named a fellow of the Asia-Pacific Artificial Intelligence Association (AAIA).
Incorporated in Hong Kong in 2021, the AAIA is an academic, non-profit organization which aims to promote the development and application of artificial intelligence (AI) across fields including computing, transportation, education, agriculture, finance, medicine, and energy through research, science education, science exhibitions, conferences, and other activities.
Subrahmanian leads the Northwestern Security and AI Lab (NSAIL), a newly launched lab conducting fundamental research in AI relevant to issues of cybersecurity, counterterrorism, and international security, and deploying AI technologies that serve as solutions to these global threats. NSAIL is jointly housed within the Buffett Institute and the McCormick School of Engineering.
A guiding goal for NSAIL is to develop predictive models that analyze specific terrorist group activity and forecast future attacks using unclassified and open-source data about terrorist groups gathered and shared in collaboration with external partners.
Pioneering the field of AI for counter-terrorism and international conflict, Subrahmanian and his team develop probabilistic reasoning and machine learning models to provide forecasts and policy suggestions related to terror attacks, cyber attacks, the stability of nations, systemic banking crises, the spread of malware, and predicting healthcare outcomes. Subrahmanian has been an invited speaker at the United Nations, Capitol Hill, and the Mumbai Stock Exchange.
Working at the intersection of AI-based methods for analyzing massive data streams for increased security, policy, and business needs, Subrahmanian's research interests include machine learning, probabilistic logics, temporal probabilistic logics, and reasoning with geospatial, multimodal and social media information.
Prior to joining Northwestern in 2021, Subrahmanian was a Distinguished Professor in Cybersecurity, Technology, and Society at Dartmouth College and director of the Institute for Security, Technology and Society.