Alumni Profile: Yiding Feng, Microsoft Research Lab – New England
Feng received his PhD in computer science in 2021 and is now a postdoctoral researcher at Microsoft Research Lab – New England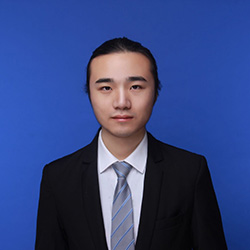 Yiding Feng (PhD '21) is a postdoctoral researcher at Microsoft Research Lab – New England (MSR). He earned his PhD in computer science with a focus on CS + Economics research in mechanism design, online algorithms, and information design under the supervision of Jason D. Hartline, professor of computer science at Northwestern Engineering.
While he was an undergraduate student in computer science in the Association of Computing Machinery Honors Class at Shanghai Jiao Tong University, China, Feng was a research intern at Microsoft Research Asia and Hong Kong University.
We asked him about his research interests, impactful collaborative experiences at Northwestern CS, and his advice for current students.
Why did you decide to pursue your PhD at Northwestern CS?
I wanted to work with Professor Jason Hartline in the interdisciplinary CS + Economics program. I also really enjoyed the culture and atmosphere of Northwestern CS. The whole department is expanding quickly. I am impressed by the great passion faculty and staff have for research.
Could you describe your research interests in one sentence?
I study how to design and evaluate economic systems and policies from a computer science perspective.
What was the focus of your thesis project?
I approached auction design — a classic problem in microeconomics related to the allocation of resources to strategic agents who have private preferences over those resources — as a multi-party computation problem. Auction design is foundational to a vast number of practical applications, including spectrum auctions, electricity markets, wireless sensor networks, e-commerce websites, and online advertising.
Economics literature provides a good answer to one fundamental question in multi-party computation — what are the incentives to do it correctly? However, the economics and computer science disciplines approach the second major question — who should be conducting which part of the computation? — with different high-level guidelines.
The end-to-end argument, a long-standing principle in CS system design, suggests the computation should be done in a decentralized manner. On the other hand, the field of mechanism design in economics favors systems in which the entire computation is centralized, and participants report a portion of optimized input data. In my thesis, I address this discrepancy by arguing the decentralization principles from CS system design are beneficial even in purely economic terms.
In online advertising platforms, for instance, advertisers bid for ad slots using different auction formats implemented to determine allocation and payments. In truthful mechanism formats, advertisers prefer to set their bids equal to the true value of the ad slots and the computation is centralized. In non-truthful mechanism formats, the computation is decentralized, and advertisers compute the level they underbid to the true value while the auction center determines allocation.
Non-truthful mechanisms are prevalent. Google Ads Manager, for example, recently shifted their auction format from second-price auction (a truthful mechanism) to first-price auction (a non-truthful mechanism). I developed new analysis tools to analyze and design non-truthful mechanisms, and provided theoretical justification on why non-truthful mechanisms are better from a robustness standpoint.
What are some examples of collaborative experiences at Northwestern that were impactful to your research?
In 2019, during my third year, I visited Stanford University for eight months at the recommendation of Professor Hartline. My collaboration with Stanford faculty members Amin Saberi, professor of management science and engineering, and Rad Niazadeh, postdoctoral fellow in computer science, was extremely impactful because it helped me expand my research interests to projects at the intersection of computer science and operations research.
In spring 2020, I participated in the special quarter on inference and data science on networks hosted by the Institute for Data, Econometrics, Algorithms, and Learning and started a remote collaboration with John Birge, Hobart W. Williams Distinguished Service Professor of Operations Management, and Ozan Candogan, associate professor of operations management, both at the University of Chicago Booth School of Business. We worked on a project which studied how to use mobility data to design the targeted lockdown policy for COVID-19. The experience taught me how to make remote collaboration efficient and how to work on empirical studies.
What skills or knowledge did you learn in the PhD program that you think will stay with you for a lifetime?

One of the most important skills I learned is how to communicate and collaborate with people from different communities with diverse languages and approaches to research.
In the early stage of my PhD program, I took several courses from the Department of Economics and the Kellogg School of Management and, later, I started collaborating with researchers in those areas. The experience taught me how to have an open mind to embrace and work with people with different backgrounds.
What types of research and projects are you currently working on at Microsoft Research Lab – New England?
Research at MSR is similar to research in academia, but with more collaboration opportunities with product groups in industry. As a postdoc, I have the freedom to choose projects. Currently, I am working on projects related to auction theory, online algorithms, and information design that have potential applications to products and services at Microsoft such as Bing sponsor search and resource allocation in Azure.
I appreciate the skills I learned in the PhD program that enable me to have diverse collaborations with researchers in MSR, product teams in other departments, and other academic institutes.
What are your longer-term career goals?

My postdoc position ends in spring 2023. I will be on the job market in fall 2022 looking for jobs in both academia and industry. Due to my research background, I will apply for both faculty jobs in computer science and operations research.
What advice do you have for current Northwestern CS PhD students?
Enjoy your PhD program! You will have tough days and challenges to overcome. However, in the end, it is a great journey. Go Wildcats!