EECS Alumnus Yinzhi Cao, Ph.D. Student Xiang Pan & Prof. Yan Chen Win Best Paper Award at 2015 IEEE Conference on Communications and Network Security
Their winning paper was, titled, "SafePay: Protecting against Credit Card Forgery with Existing Magnetic Card Readers."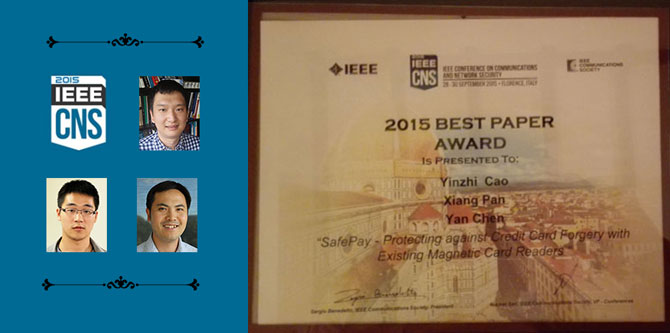 EECS alumnus Yinzhi Cao (PHD 14'), Ph.D. Student Xiang Pan and their advisor Prof. Yan Chen of the Northwestern University Lab for Internet and Security Technology (LIST) won the Best Paper Award at the 2015 IEEE Conference on Communications and Network Security (CNS), taking place September 28-30 in Florence Italy.
Their winning paper was, titled, "SafePay: Protecting against Credit Card Forgery with Existing Magnetic Card Readers."
Yinzhi Cao recently joined the Computer Science and Engineering Department at Lehigh University as an Assistant Professor. His research interests are Web Security, Mobile Security, Machine Learning Security, and Privacy. Xiang Pan is a 4th year PhD student working in the areas of web security, web privacy, SDN security and Android security.
The IEEE CNS is one of the core conferences in IEEE Communications Society (ComSoc). Their research has also been featured in over 30 news periodicals, such as: NSF Science360 News, Yahoo! News, ScienceDaily, Tech News Today, Times Today News, and The Economics Times.
View a more extensive list of publications
IEEE Conference on Communications and Network Security (CNS) is a new conference series in IEEE Communications Society (ComSoc) core conference portfolio and the only ComSoc conference focusing solely on cyber security. IEEE CNS is also a spin-off of IEEE INFOCOM, the premier ComSoc conference on networking. The goal of CNS is to provide an outstanding forum for cyber security researchers, practitioners, policy makers, and users to exchange ideas, techniques and tools, raise awareness, and share experience related to all practical and theoretical aspects of communications and network security.