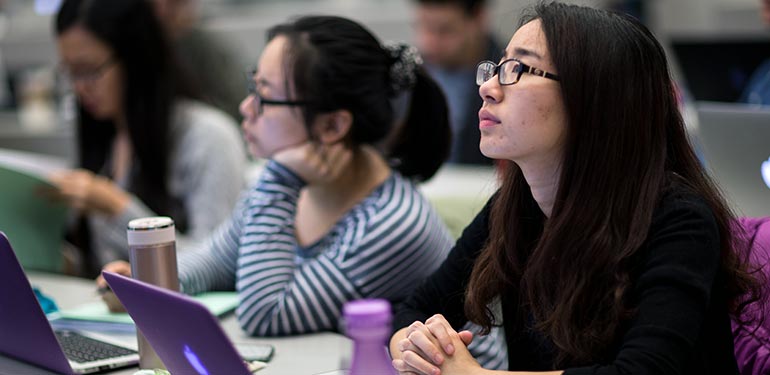 PhD in Computer Science
Students in the PhD program in computer science work with leading researchers in cutting-edge labs to advance the state of the art in distributed systems, artificial intelligence, human computer interaction, theoretical computer science, and computer graphics. There are ample opportunities for interdisciplinary collaborations across the Northwestern schools. Students are fully funded through research assistantships, teaching assistantships, and fellowships.
The department looks for students with a strong academic record and a high motivation for innovative research. Prior research experience is a plus. An MS degree is not required.
Learn more about research in computer science
Curriculum and Requirements
Each student receiving the PhD should have a solid background in his or her field as preparation for a career in research or teaching. To ensure that each of our students receives this background, we require them to choose and complete a program of study corresponding to his or her intended field of inquiry.
These programs of study are offered within the division's six research interest groups: Systems and Networking, Theory, Artificial Intelligence and Machine Learning, Human-Computer Interaction, Graphics and Robotics.
Download a PDF program guide about your program of interest and get in contact with our graduate admissions staff.
Cognitive Science Certificate
Computer science PhD students may earn a specialization in cognitive science by taking six cognitive science courses. In addition to broadening a student's area of study and improving their resume, students attend cognitive science events and lectures, they can receive conference travel support, and they are exposed to cross-disciplinary exchanges.
Learn more about the cognitive science certificate
The Crown Family Graduate Internship Program
PhD candidates may elect to participate in the Crown Family Graduate Internship Program. This opportunity allows the doctoral candidate to gain practical experience in industry or in national research laboratories in areas closely related to his or her research.
Learn more about this internship program
Career Paths
The PhD program in computer science emphasizes excellence in education and research, providing graduates with a solid foundation for a career in industry, academia, and research labs.
Recent graduates are pursing careers in a number of industry research labs, including Google, Microsoft, Yahoo, Adobe, Intel, Nokia, and Narrative Science, among others. Graduates also work for a number of universities, including the universities of Washington, Pittsburgh, and Rochester. Other recent graduates are pursuing post-doctoral research at MIT, the University of Colorado, and the Naval Research Laboratory.
More in this section