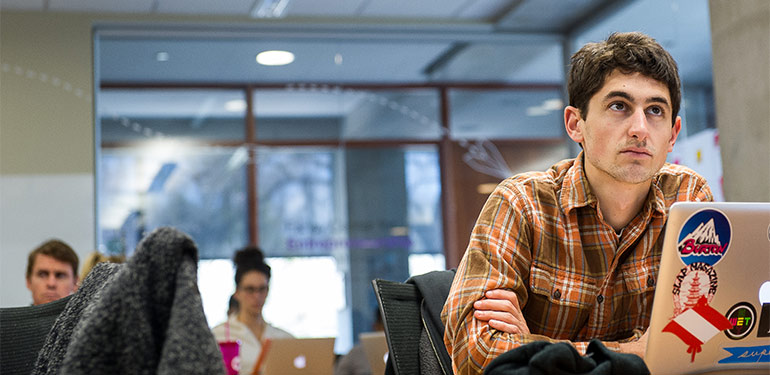 Admissions Overview
To maintain a proper balance between department resources and the size of the graduate student population, the department must limit offers of admission to the most qualified applicants. Thus, the admission process is highly selective and competitive. Details on the process are outlined in the sections below and in the Graduate Application FAQ. 
Admissions FAQStart Your Application
Jump to a Section
Application Deadlines and Important Dates
Applications for the 2024-2025 academic year will become available on September 13, 2023 on the application website.
PhD Applicants
The deadline for PhD applicants is Friday, December 1, 2023 (for Fall 2024). You can still apply after this deadline, up to December 15, 2023. However, be aware that applications are usually reviewed soon after the deadline, so late applications may not be processed as quickly. Most of the decisions are typically finalized by the end of March, but some decisions may be made as late as April 15.
The PhD Application Feedback Program aims to assist first-generation and underrepresented students with their applications to Computer Science PhD programs in the US. An advanced PhD student, postdoctoral fellow, or CS faculty volunteer will provide one round of feedback on an applicant's resume and statement of purpose (capacity limited). Volunteers may also arrange for a short 15 to 30-minute Zoom meeting to offer additional advice. Participation in the PhD Application Feedback Program does not guarantee admission to any program.
To participate in this year's PhD Application Feedback Program, please submit your application materials by November 8, 11:59 p.m. CST. Apply now
MS Applicants
Applications are accepted for Fall quarter only.
For the MS program, applications
Submitted by November 30 will receive a decision by January 10
Submitted by December 31 will receive a decision by February 10
Submitted by February 28 will receive a decision by April 30
No applications after February 28 will be considered.
The absolute deadlines regarding certain admissions-related actions by TGS are available here.
How to Apply
There are no paper application forms for either admission or financial aid.
To apply for admission to the CS department, go to The Graduate School (TGS) website, follow the link to "Admission," and then finally "Apply Online"
Notes About the Online Application
TGS's online application form will ask you to select either the PhD or MS option for computer science. If you want a PhD, with or without a master's degree, select the PhD option. The MS option is for terminal master's only and does not constitute admission to further work toward a PhD.
It will also ask you to enter research area(s) among the research interest groups.
Once you complete the online application, you will receive an email message asking you to provide additional information about your GPA and specific research interests. You will be asked to select your two or three top choices among the six research interest groups, based on your specific research interests. You may give more detail in your Statement of Purpose. For example, a student who would like to pursue research in "wireless networks" might select the Systems and Networking group.
Supplemental Materials
Before you apply online, gather the following:
Additional (optional) supporting materials may include your resume, research papers, certificates, etc.
GREs will NOT be required for the 2023-2024 CS doctoral or masters program applications.
Please note that it is not required to send a hardcopy of your official transcripts. Instead, upload a scanned copy of it/them as PDFs, along with all the other supplementary materials, into your online application.
Note that upon admission you may be required to provide the original transcript(s). An applicant may not be admitted without a complete application. All primary and supplemental materials must be submitted to render a decision to admit. Denies may be made due to incomplete applications.
Who Should Apply
A typical applicant is expected to have a bachelor of science in electrical engineering, computer engineering, computer science, or a related discipline from a recognized institution. Highly qualified candidates with other academic backgrounds may also be considered.
The specific undergraduate preparation required for graduate study depends on the program and the area of specialization. An applicant who has insufficient undergraduate preparation in any particular area but is well-qualified in every other respect may be required to take certain undergraduate courses as soon as possible after enrolling at Northwestern. That student would be informed of such a requirement at the time of admission.​
Current Northwestern CS MS students wishing to continue into the CS PhD Program
A current Northwestern University CS MS student can request a transfer from the MS program to the PhD program. Such a transfer request is only seriously considered if there is a CS faculty member who advocates the transfer and commits to financially supporting the student. That faculty member will help the student formally apply for the transfer, which will then be considered by the department. Students may formally apply for a transfer without a faculty advocate, but the chance of approval in this case is very low.
When to Apply
MS and PhD applicants should apply to begin only in the fall quarter. Note that we only allow for fall admits to both programs. Winter and spring quarter admission requests by MS and PhD applicants will be automatically denied, in general.
The only mechanism for winter or spring quarter PhD admission involves the intervention of one of our faculty, who must agree to support the student in question as a research assistant for the remainder of the academic year. To explore this possibility, an applicant should contact individual professors listed in th department's faculty directory.
You can view a great deal of general information about requirements and policies on The Graduate School website. For more info, please contact the CS department graduate office.
English-Language Requirements
For both MS and PhD students, we require:
Test of English as a Foreign Language (TOEFL) score of 90 or better (IBT), or
International English Language Testing System (IELTS) score of 7.0 or better, or
Michigan English Test (MET) score of 54 for master's applicants or better and score of 61 or better for PhD applicants, or
An undergraduate degree or graduate degree from an accredited institution where the language of instruction is English.
Learn more about English language requirements
Tips (Important Info to Read Before You Begin Your Application)
We understand that proceeding with the application process for graduate studies is not an easy decision or something that should be considered lightly. To help you in making up your mind and give you some hints regarding the overall evaluation criteria, we provide a discussion of some of the relevant issues below.
Academic Record
We do receive applications with transcripts using different GPA scales (10.0, 100%, etc.) and we apply the adjusted criteria to such scales. Hence, applicants do not need to provide any conversions and should leave their GPAs in their institutions' standard scale. As another specific example, many of the universities from India have a "class-based" evaluation scheme, and we note that we will always give priority to "First Class with Distinction" applicants. The application process does allow you to write the "self-reported" GPA on the scale of 4.0; however, we will always use the transcripts during evaluation process.
Standardized Test Scores
Master's and PhD applicants: GRE scores are neither required nor considered in applications. 
Please keep in mind however that you will still need to meet the minimum requirements for English proficiency as stated above.
Primarily for PhD applicants, CS faculty interested in advising may conduct separate interviews for further informal assessment of applicants.
Refer to requirements at Graduate School
Academic Statement
See The Graduate School description of what is expected for the required Academic Statement and Personal Statement.
For PhD applicants, the Academic Statement carries extremely important weight, so the statement should be written in a clear and focused manner. Namely, upon reading it, an evaluator/faculty should get a crisp idea as to:
Why is it that you would like to work in a particular major/specialization/topic and with a particular faculty as your adviser (for MS applicants this could be a project or thesis adviser)?
Why is it that a particular faculty should be interested in having you as an advisee?
Statements should provide a good balance between background, vision, and desiderata.
Example: simply saying that you like Northwestern or you have a high esteem for the faculty in CS is not recommended. 
Lastly, while this may not always be possible, it will be helpful if at least some parts of the recommendation letters can back up the claims made in the statement of purpose.
Declaring Preferences for Areas of Study in Research and Advising
In the online application system, each applicant will be given the option to choose in order of preference among different Programs of Study in our department. Faculty examine applications in their respective areas; therefore, every applicant, especially for the PhD program, should carefully examine every faculty members research interests on our website. Furthermore, applicants will be asked to provide up to two names of specific faculty members whom they would like to study under. This is highly recommended and useful for identifying candidates to consider.
Letters of Recommendation
A minimum of two letters is required, but three is highly recommended. 
Miscellaneous
We will value all your achievements (e.g. awards received in competitions) and experiences (e.g. research projects, leadership). However, the best place to put them in a coherent manner is your resume. Ideally, some of these items should also be properly linked with the statement of purpose document.
More Information
Please consult our Graduate Admissions FAQ if you have more questions, or continue on to Financial Aid, Assistantships, & Fellowships.
More in this section