Realizing the Impact of MBP
Program Co-Director Danielle Tullman-Ercek reflects on the program and the impact it's had.
I was at a Cell Culture Engineering conference in Tampa, Fla., this past May when I truly understood the impact of Northwestern Engineering's Master of Science in Biotechnology program (MBP).
Whenever someone heard I was from Northwestern, they went out of their way to speak highly about MBP. Every person talked about how great the program was, or how they loved our students, or how well prepared our students are. It was striking that they would be so complimentary without even realizing I was a part of the program myself. It's a testament to what the program is, and it made me happy and proud to be a part of it. To be honest, though, it also made me nervous because it's my responsibility to keep that reputation strong.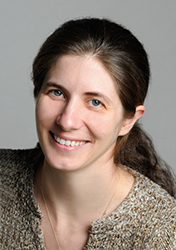 I've been co-director of MBP since January of this year, and it's been a whirlwind getting up to speed on where the program is and where we want it to be. At the same time, it has been an incredible learning experience working with co-director Bill Miller, and I've thoroughly enjoyed getting to know our faculty and staff.
I may have started my current role nine months ago, but I've known about MBP and its incredible students almost from the day I arrived at Northwestern two years ago as an associate professor of chemical and biological engineering. I agreed to be a preceptor for the program, and I took in four MBP students to do research in my lab.
I was so impressed with those students.
Those students came in and were extremely efficient with their time. One student came in and quickly understood what was needed of her for her project. The other three were newer to research, but were diligent in their work and rapidly got up to speed. They all offered opinions and valuable advice to other students based on what they had learned in their classes. They clearly understood the material they learned from their coursework.
Their knowledge base and work habit were much more advanced than I would have expected from a first-year masters student.
I thought I had lucked out and just happened to get four of the best students in the program. Since I became more involved in the program, though, I realized that luck had nothing to do with it; all of the MBP students are like that. This program specifically trains them to be the leaders they were in my lab. My experience echoes what I heard from industry scientists and engineers at the Cell Culture conference in May: MBP produces versatile professionals with a solid biotechnology background that excel in a variety of settings.
People have asked me what my goals are for MBP moving forward, and my answer is usually pretty simple — My main goal is to keep the program strong. We'll keep everything that's been working really well for 15 years, but we also need to continually change as the industry changes. My job is to anticipate those needs and help the program prepare our students to solve those upcoming problems.
It's been an incredible nine months so far. I can't wait to see what the next few months and years have in store.