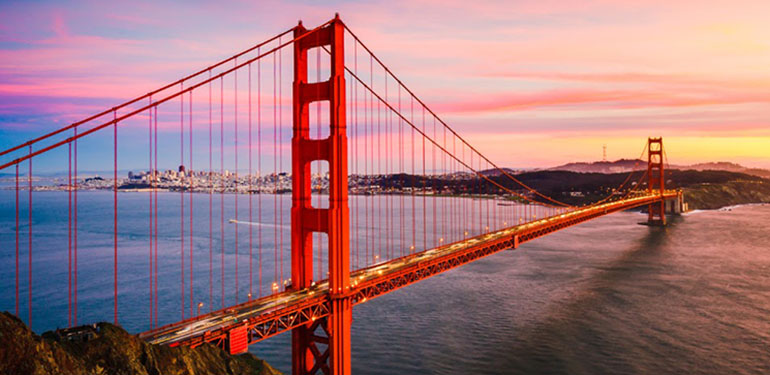 Career Development

  /  

Where to Work in Biotech

Biotechnology in San Francisco
Fast facts
Population: 866,606 (2020), 17th largest in US
Area: 46.9 sq miles
Nicknames: City by the Bay, The City, The Golden City
Top Sights: Golden Gate Bridge, Alcatraz Island, Oracle Park
Biocluster Size: 2nd largest in the country1
---
The birthplace of biotech
Biotechnology was born in South San Francisco in 1976. Since then, the Bay Area has become a hub for innovation and home to hundreds of biotechnology companies. To learn more about the biotech scene in San Francisco, we talked with three alumni from Northwestern Engineering's Master of Biotechnology program (MBP) about the city, its people, and its place as a biotech hotbed.
When Roman Semenyuk (MBP '11) moved to San Francisco in early 2017, he knew three things about the city: it's expensive, it's always cold and foggy, and technology companies are everywhere.
And he was right. San Francisco is the second most expensive city to live in in the country2, trailing only Manhattan. The fog results from the cold air over the Pacific Ocean moving inland toward warmer temperatures through the Golden Gate passage — where there is an opening in the terrain — and over the San Francisco Bay.2 And as for tech, it is seemingly everywhere, but not just in corporate giants like Salesforce and Uber.  
San Francisco and the surrounding Bay Area is a hotbed for biotechnology.
Biotechnology originated in San Francisco with the launch of Genentech in 1976.3 Since then, the Bay Area — which includes nine counties and more than 100 cities, including San Francisco, Oakland, Berkeley, and San Jose — has embraced biotech. The area currently has the second-highest amount of dedicated biotech lab space in the country that's utilized by industry giants like Gilead Sciences, Amgen, Merck, and Pfizer, as well as dozens of startups.
Semenyuk spent three years in San Francisco, first as a consultant for Deloitte and then as an engagement manager at Benchling, a cloud-based software platform for life sciences research and development. Semenyuk still works at Benchling but moved to Chicago in November 2020 to help the company expand to the Midwest. Still, the distinctiveness of the "City by the Bay" remains fresh in his mind. 
"After a few years of living there, you start to uncover how interesting the city actually is," Semenyuk said. "Despite the dominance of the tech scene, the city is covered with work by interesting artists, live shows, unique restaurants, and weird traditions, like the Bay to Breakers Race. 
"What I appreciated was the fact that it's really easy to make new friends and grow your own community, since almost everyone there is a transplant and open to meeting new people."
A city with unique people and opportunities
When Anushya Mani (MBP '10) thinks about San Francisco, it's the people that stand out to her as well.
"San Francisco is at the forefront of high-tech innovation and advancement, and as a result, there is a high chance you will meet several intriguing folks in a social or professional setting who urge you to think outside the box and inspire you to do more," she said. "Everyone is open minded, and you will no doubt be able to find those who share similar passions, hobbies, and values as you."
Mani is the associate director for chemistry and manufacturing controls (CMC) project management at Bolt Biotherapeutics, a clinical-stage immuno-oncology company developing tumor-targeted therapies. She's called San Francisco home since 2018, when she moved from Boston while working as a project management consultant. Within months of her cross-country move, she began hearing from recruiters about a host of unique biotechnology job opportunities.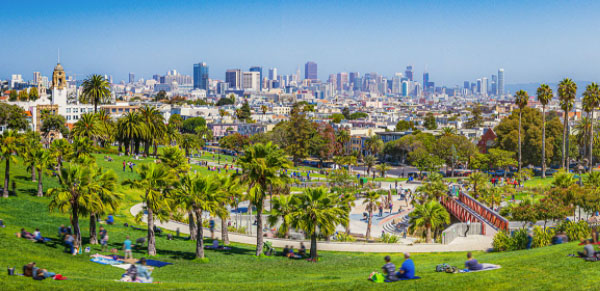 Biotech's prevalence in the area is thanks in large part to the collection of top-tier universities close by, including Stanford and the University of California, Berkeley. Mani knew that, and initially thought graduates of those programs would have an advantage when it came to job placement in the area. She quickly realized that was not the case. 
"If you haven't graduated from one of the California schools with a science or engineering degree, don't worry," she said. "These biotech companies are looking for people with a solid foundation and evidence you can critically challenge what you're being told."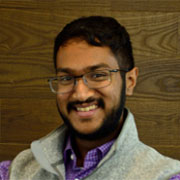 Winode Handagama (MBP '18) discovered that firsthand.
When Handagama graduated from MBP, he landed a job at Genentech, the first biotechnology startup in the world5 and the first biotech company to go public6. When Handagama joined, he was one of approximately 10,000 Genentech employees working in South San Francisco. He spent two years in the company's process development rotation program and an additional six months as a cell and gene therapy research associate before leaving to become a senior research associate at Serotiny, a startup focused on inventing proteins for cell therapies.  
"I began my first role out of MBP at Genentech with a leg up on most of my peers," Handagama said. "While many of my recently-hired colleagues needed to spend considerable amounts of time understanding the regulatory landscape, learning about bioprocess operations, and familiarizing themselves with product portfolios of competitor companies, I was able to focus my efforts on developing in areas of my choosing, because I already had gained much of that knowledge from my time at MBP."
Handagama is grateful he ended up in San Francisco, a city he said is filled with an eclectic collection of cuisines, iconic music venues, and wonderful outdoor activities. The city is truly special, Handagama said, both as a place to live, and as a biotech hub.
"There is a large presence of top-tier research institutions around the Bay, as well as many funding streams, including many venture capital firms in Silicon Valley and San Francisco proper," Handagama said. "Combine those factors with lots of available lab space for rent, and you have the perfect recipe for an active biotechnology scene."
[1]Genetic Engineering & Biotechnology News annual rankings of Top U.S. Biopharma Clusters. These rankings take into account five criteria: NIH funding, venture capital funding, patents, lab space, and jobs.
[2]https://www.quickenloans.com/blog/15-most-expensive-cities-in-the-us
[3]https://www.kqed.org/news/11682511/why-san-francisco-gets-so-windy-and-foggy-in-the-summer
[4]Genentech Campus Plan Executive Summary 2019
[5]Genentech Campus Plan Executive Summary 2019
[6]https://www.gene.com/stories/genentech-goes-public
More in this section