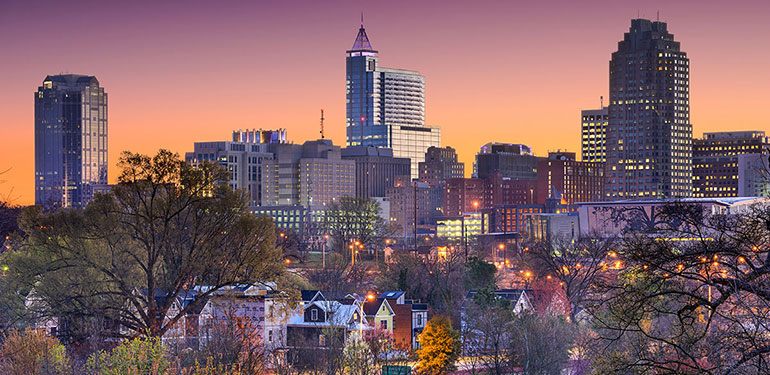 Career Development

  /  

Where to Work in Biotech

Biotechnology in The Research Triangle
Fast facts
Population: The nine North Carolina counties that comprise the Research Triangle have a combined population of roughly 2 million people. The largest city in the Research Triangle is Raleigh, with a population of 488,334, 40th largest in the United States.
Nicknames: The Triangle
Top Sights: North Carolina Museum of Natural Sciences, North Carolina Museum of Art, Durham Performing Arts Center, The Carolina Basketball Museum
Biocluster Size: 9th largest in the country1
---
Life in the country's second-best place to live 
In 2017, James Bolling (MBP '13) was offered a job at Precision Biosciences, located in Durham, North Carolina. At the time, he didn't know much about Durham, other than it was home to Duke University and part of a larger area known as the Research Triangle that included nearby Raleigh and Chapel Hill.   
The more Bolling researched the area, the more he became intrigued. He discovered that the Triangle is home to three top-tier universities — Duke University, the University of North Carolina at Chapel Hill (UNC), and North Carolina State University in Raleigh — and has a budding technology and biotechnology scene. Beyond that, it seemed like the area offered larger-city life at a fraction of the price.  
He took the job, and quickly discovered his perception was right.
"You get almost all of the amenities of a big city, whether it's food and restaurants or cultural activities like the symphony orchestra or art museums, except it's not a big city," Bolling said. "What you're able to get in terms of space as well as things to do and opportunities for high-quality and engaging work is what sets this place apart." 
Bolling is not the only one to have that belief. In 2021, U.S. News & World Report ranked the Research Triangle as the second-best place to live in the country.
The term Research Triangle was first coined to describe the area in the mid-1950s by Romeo Guest, a construction executive who previously studied at the Massachusetts Institute of Technology (MIT). At MIT he witnessed the growth of businesses in Boston around the university and wondered if the same dynamic could happen in North Carolina around the three universities. 
It could, and it did.
Today, the Research Triangle features more than 7,000 companies. In the center of the Triangle is Research Triangle Park, home to more than 300 companies — one-third of which focus on biotechnology or life sciences. 
"There didn't used to be a lot of research and development in the Triangle, it was more manufacturing and contract development and manufacturing companies, but that's really changed and it continues to change," Bolling said. "Even in the last five years, my options for other R&D opportunities here have really blossomed."
Not that Bolling is looking for a job change right now. As an associate director leading cell therapy process development at Precision Biosciences, Bolling helps optimize and test new cell therapy developments. His role is to prioritize different initiatives and work cross functionally with the analytical, technical operations and manufacturing, quality, and regulatory teams to support the overall business as best he can.
"It's an ever-changing job that's fast-paced, and there's never a shortage of challenges," Bolling said. "Lots of times, we're doing things that no one has ever done before."
Wulin Jiang (MBP '15) said that focus on innovation is a constant across the Triangle. Jiang spent five years in the area getting his PhD in Pharmaceutics and Drug Design from UNC.
"While the total number of biotech companies is remarkable in the Research Triangle," Jiang said, "the type of research also varies wildly from small molecular drugs, protein engineering, and genetic editing to cell therapy, adeno-associated virus therapy, and nanoparticle-mediated drug delivery." 
Jiang brought his own innovative attitude to UNC, where his research focused on developing personalized induced neural stem cell therapy to treat triple negative breast cancer and brain metastases.  
"I was extremely attracted by the concept of converting a patient's skin cells to therapeutic stem cells," he said. "Plus, I believe cell therapy and personalized medicine will be the future for cancer treatment."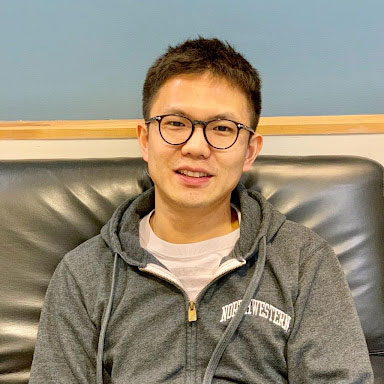 Jiang credited the North Carolina Biotechnology Center (NCBiotech) with helping advance the area's biotechnology scene. NCBiotech grants funding and loans to various biotech startups, and was the country's first state-funded nonprofit geared toward increasing success in the life sciences. 
Jiang left the Triangle in October 2021 to take a job with a life sciences consulting company in New York City. He and Bolling agreed the cost of living was more manageable in the Triangle. 
"I live a mile-and-a-half from downtown Raleigh," Bolling said, "but I live in a house that was affordable to purchase and has plenty of space. It's not a cramped condo like I'd get in Boston or New York or San Francisco." 
Redfin supported Bolling's claim. According to the real estate brokerage company, the average sale price per square foot in Research Triangle Park is $210; in Boston, the average is $585, and in San Francisco, the average is $1,050 per square foot.
Beyond their shared appreciation of the Research Triangle, Jiang and Bolling both credit Northwestern Engineering's Master of Biotechnology Program (MBP) for preparing them for where they are today. Jiang said the research opportunities in MBP, along with the program's emphasis on critical thinking and communication, helped him become a more confident independent researcher who can present findings efficiently and effectively. 
In Bolling's case, he turned to MBP for help developing a foundation in engineering that he could pair with his background in biology. Not only did he gain that knowledge, but he also got a glimpse of his future in biotech.
"MBP was an excellent opportunity to get a taste for what working in biotechnology is like," he said. "Everything I learned in MBP was a good preview of what the real-life situation was and what the work was going to look like."
[1]Based on Genetic Engineering & Biotechnology News annual rankings of Top U.S. Biopharma Clusters. These rankings take into account five criteria: NIH funding, venture capital funding, patents, lab space, and jobs.
More in this section