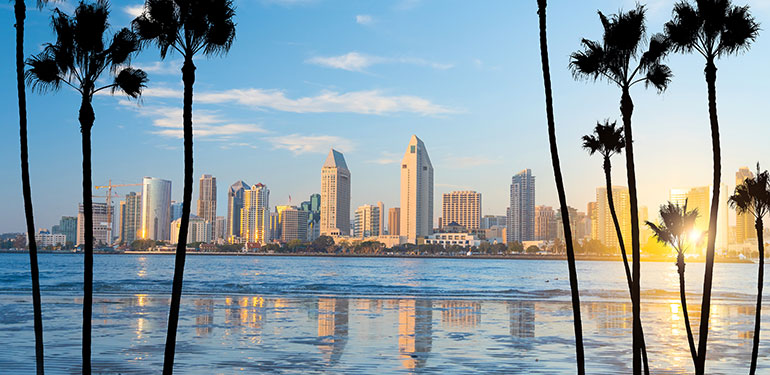 Career Development

  /  

Where to Work in Biotech

Biotechnology in San Diego
Fast facts
Population: 1,469,490 (2021), 8th largest in US
Nicknames: America's Finest City, City in Motion
Top Sights: USS Midway Museum, La Jolla Cove, San Diego Zoo, Balboa Park, Sunset Cliffs Natural Park, Torrey Pines State Natural Reserve
Biocluster Size: 5th largest in the country1
---
SOAK UP THE SUN IN SAN DIEGO
If Peter Zhang saw a colleague return from lunch with wet, wave-tossed hair and smelling slightly of sea salt, he would understand. 
Zhang (MBP '14) is one of the thousands of people working in biotechnology in and around San Diego, a burgeoning center for innovation in the field. 
"If you work in Sorrento Valley, where many biotech startups are located in San Diego, you can literally walk to the beach during lunchtime, surf for 45 minutes, and then go back to work," he said. 
San Diego is about more than beaches, although San Diego County — home to San Diego and 17 other cities — does include 70 miles of coastline. Like other bioclusters, San Diego is home to a number of academic institutions, including the University of California San Diego and its Scripps Institution of Oceanography, as well as the Salk Institute for Biological Studies. Collaboration between companies and higher education is a hallmark of most bioclusters, and California's second-largest city is no different. Pharmaceutical giants like Eli Lilly, Pfizer, and Takeda all operate out of San Diego.
While well-known companies help drive the city's economy, San Diego's biotech reputation rests on its plethora of biotech startups.  
"San Diego is a hotbed for early-stage, innovative companies," said Shobhit Patoria (MBP '18), a senior research associate at Gilead Science who joined the company immediately after graduation. "Within biotech and life science, we have strong genomics, diagnostics, personalized medicine, and medical-device companies."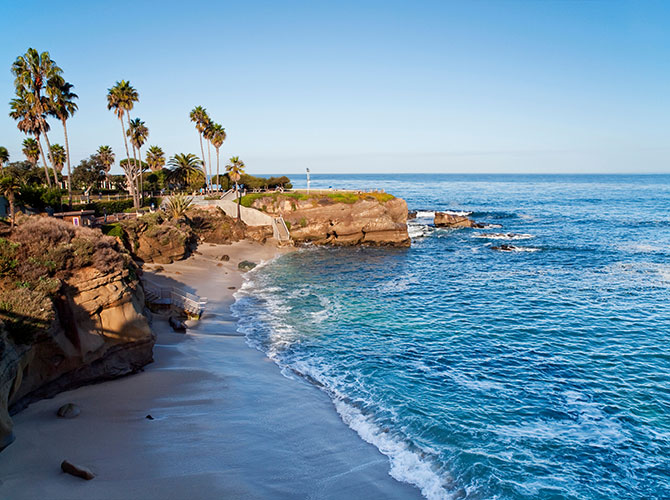 Zhang, meanwhile, is familiar with the area's growth as a biocluster. He went to high school about an hour away from downtown San Diego. Then, after graduating from Northwestern Engineering's Master of Biotechnology Program (MBP), he worked for Gilead Sciences just north of San Diego for more than seven years. In January, he became a manager for corporate strategy at Thermo Fisher Scientific, located less than 10 minutes from the ocean in nearby Carlsbad. 
BIlling itself as "America's Finest City," San Diego was listed by Genetic Engineering & Biotech News (GEN) as fifth on the list of Top 10 U.S. Biopharma Clusters in 2021. So promising is its future that IQHQ, a commercial real estate developer focused on creating space for life science companies to innovate, has a $1.6 billion project planned to bring more than 1.3 million square feet on 12 acres along the waterfront in downtown San Diego.
It's not just space. Maravai LifeSciences grossed nearly $1.9 billion when it went public in 2020, a year when it moved into expanded space in San Diego. The city also attracted the third most venture capitalist dollars of any biocluster, according to GEN.
Patoria said he understands why so many companies want to call San Diego home. 
"San Diego fosters a lot of collaboration across different biotech companies," he said. "It's a solid R&D hub."  
San Diego's consistently beautiful weather certainly doesn't hurt as a recruiting tool, either. When it's time to talk about its differentiators compared to other bioclusters, San Diego's natural benefits are never far from the top of its advocates' minds. 
"San Diego County and the surrounding suburban cities are chill places – great food and plenty of outdoor activities," Zhang said. "You can use three words to describe San Diego – sun, beaches, and golf." 
Patoria agreed.
"San Diego is a cool, modern, and laidback city by the ocean," he said.
[1]Based on Genetic Engineering & Biotechnology News annual rankings of Top U.S. Biopharma Clusters. These rankings take into account five criteria: NIH funding, venture capital funding, patents, lab space, and jobs.
More in this section