PhD Student Connects with Computing Education Community at SIGCSE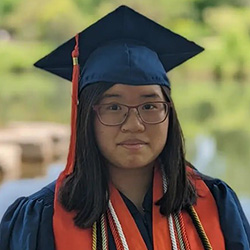 Melissa Chen, a first-year PhD student in computer science at Northwestern Engineering, attended the Association for Computing Machinery (ACM) Special Interest Group on Computer Science Education (SIGCSE) Technical Symposium 2023 last month in Toronto.
Chen was awarded a Council on Women in Computing (ACM-W) Computer Science Research Conference Scholarship to offset travel costs to the event — her first in-person academic conference experience.
"I'm very new to doing research in the computing education space," Chen said. "My goal was to learn — learn more about the community of education research and learn more about people's philosophies and perspectives in the space. I felt invigorated to come back to Northwestern after SIGSCE and dig into my own research. I feel very energized."
Chen also volunteered at the conference, assisting with registration, counting attendees in a session, helping a session chair, and directing foot traffic (Toronto Comicon overlapped with SIGSCE in the Metro Toronto Convention Centre).
Chen is advised by Eleanor O'Rourke, an assistant professor of computer science at the McCormick School of Engineering and of learning sciences in the School of Education and Social Policy. Chen is a member of the Delta Lab, which is codirected by O'Rourke, Matt Easterday, Liz Gerber, and Haoqi Zhang.
Prior to starting graduate studies at Northwestern, Chen earned a bachelor's degree in computer science in May 2022 from the University of Illinois at Urbana-Champaign. As an undergraduate student, she was interested in artificial intelligence (AI) and machine learning and joined a research team using satellite imagery to determine the distribution of feed crops in local fields.
As she realized she wanted to have a more direct impact on helping people and became involved in peer mentoring, Chen's focus began to shift toward AI applications in education, design, and human-computer interaction. This led her to O'Rourke's work.
Building on research by O'Rourke and Jamie Gorson (PhD '22), a graduate of the joint PhD program in Computer Science and Learning Sciences, Chen is investigating how to support university-level students through the process of learning programming and how to help novice programming students develop a sense of self-efficacy, or a person's belief in their ability to complete a task or achieve a goal.
"Nell and Jamie did a lot of research demonstrating that beginning programming students have misconceptions about what the programming process looks like, and they think 'If I have to stop and think or if I have to look something up, that makes me a bad programmer,'" Chen said. "A person can still be a good programmer and need to stop and think or look things up. But students still feel badly about themselves, so how can we help students understand that this is a normal part of the programming process?"
Chen is currently working on an intervention designed to deliver real-time feedback messages to students directly in jGRASP, an integrated development environment (IDE) created by a team from Auburn University. This month, Chen will begin testing the tool in a laboratory setting to evaluate, for example, the degree to which users feel encouraged or distracted by the messages and if the real-time feedback makes the students feel hopeful and motivated to persist.
"Students are experiencing moments when they assess their own abilities throughout the programming process, so it makes sense to try and deliver feedback to them as they do so," Chen said.