Doctoral Student Chenkai Weng Receives J.P. Morgan AI Research Fellowship
Northwestern Engineering computer science PhD student Chenkai Weng has received a J.P. Morgan AI Research PhD Fellowship in recognition of his work advancing cutting-edge research in cryptography.
Weng is a fourth-year PhD student in computer science advised by Xiao Wang, assistant professor of computer science at the McCormick School of Engineering.
Weng's research centers around applied cryptography, with a particular focus on the design, analysis, and implementation of secure multi-party computation and zero-knowledge proof protocols. He also builds secure systems by applying advanced cryptographic techniques to various fields, including databases, networking, formal verification, machine learning, health care, and Web3-based systems.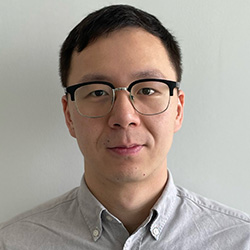 "The J.P. Morgan PhD Fellowship represents solid support and recognition of my research and my contribution to the cryptography community," Weng said. "It encourages me to pursue my work on cryptography-based privacy-enhancing techniques, and explore their applications in various digital systems, especially in the financial industry."
The J.P. Morgan AI Research PhD Fellowship program is intended to support the novel and impactful thesis work of PhD students and enables opportunities for PhD students to engage with industry professionals on the JPMorgan Chase AI research team. Awardees, who are nominated by their institutions through an invitation-only selection process, also complete a summer internship at J.P. Morgan.
Weng began collaborating with the cryptographic researchers at J.P. Morgan as a summer associate in 2022 under the supervision of Antigoni Polychroniadou, head of the AIgoCRYPT Center of Excellence and vice president at J.P. Morgan AI Research.
"I collaborate with cryptographic researchers in J.P. Morgan to design financial products that offer unprecedented security features," Weng said. "By applying my cryptography expertise, we can ensure a high level of privacy that surpasses their current implementations. I am also working on extending the security and scalability of the interactive zero-knowledge proof protocol, which has promising applications for decentralized platforms."
Weng and Polychroniadou's work on secure multi-party computation with constant online communication was accepted at Eurocrypt 2023, which is one of the three flagship conferences in the field of cryptology. The paper, titled "SuperPack: Dishonest Majority MPC with Constant Online Communication" was coauthored by Daniel Escudero (J.P. Morgan AI Research), Vipul Goyal (NTT Research), and Yifan Song (Tsinghua University, Beijing).
"The research at J.P. Morgan covers a wide spectrum, from pure theoretical exploration in the field of cryptology to building software based on advanced cryptographic techniques to ensure data confidentiality in the financial services," Weng said. "In my current internship, I'm working on eliminating privacy risks in various financial systems that provide vital services to Chase clients. I am thrilled to learn from J.P. Morgan researchers not only the research skills, but also the methodology of applying theoretical tools to real-world problems."
Weng earned a bachelor's degree in information security in 2019 from Xidian University in Xi'an, China. Following graduation, Weng plans to pursue an academic position that allows him to continue his research on cryptography and contribute to the advancement of this field.
"I aim to deliver high-quality service to the cryptography community and leverage my skills to create positive social impact," Weng said.