Northwestern CS Announces Spring 2022 Outstanding Teaching Assistant and Peer Mentors
Quarterly department awards recognize exceptional service to the CS community
Each quarter, Northwestern CS honors and recognizes students who demonstrate excellence in computer science mentoring and teaching with Peter and Adrienne Barris Outstanding Teaching Assistant and Outstanding Peer Mentor awards.


Nominated by any member of the department for service to the CS community that goes beyond expectations, the teaching assistants and peer mentors work with faculty to deliver courses and support of the highest quality.
"Our teaching assistants and peer mentors are an integral part of the Northwestern CS team and provide invaluable service both to fellow students and to faculty," said Samir Khuller, Peter and Adrienne Barris Chair of Computer Science at Northwestern Engineering.
Aravind Reddy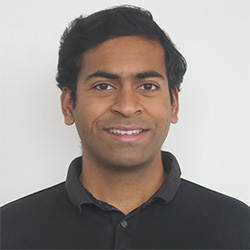 Reddy, a fourth-year PhD student in the CS Theory Group at the McCormick School of Engineering, was named the Peter and Adrienne Barris Outstanding Teaching Assistant for the spring 2022 quarter in recognition of his service to students in the COMP_SCI 212: Mathematical Foundations of Computer Science course, who noted his enthusiasm and accommodating personality.
"Aravind was always willing to step in when other members of the COMP_SCI 212 team were overwhelmed," a nominator said. "He was well-tuned to which students were struggling and contributed a number of ideas and suggestions for making the course more engaging."
Reddy, who earned a master's degree in computer science from Northwestern Engineering in March 2021, is advised by Konstantin Makarychev, professor of computer science, and Aravindan Vijayaraghavan, associate professor of computer science and (by courtesy) industrial engineering and management sciences. 


Reddy's research interests center around the design and analysis of algorithms for computationally hard problems, especially those which arise in the context of large-scale machine learning. He is an intern with Adobe Research this summer. He plans to graduate in June 2023 and pursue a research position in academia or industry.
"I am very happy that students in Comp Sci 212 found my enthusiasm for mathematical foundations of computer science infectious," Reddy said. "Hopefully this will lead more of them to pursue rewarding long-term careers in computer science and allied fields."
Spring 2022 Outstanding Peer Mentors
The Northwestern CS peer mentor program is designed to ensure that students representing a range of computing backgrounds receive individual attention and real-time feedback.


Afreen Bhumgara
Bhumgara is pursuing a master of science in computer science degree and graduate minor in engineering management through the Department of Industrial Engineering and Management Sciences at Northwestern Engineering. She was recognized for supporting COMP_SCI 211: Fundamentals of Computer Programming II students and making the course "super fun."
"Students were confident that she would always be able to answer their questions fully and in an accessible manner," a nominator said.


Bhumgara focused on recognizing the barriers, obstacles, and knowledge gaps faced by new programmers. Her goal as a peer mentor was to provide a safe space for students to learn by communicating and reiterating difficult concepts.
"I hope this recognition inspires other first-gen international students like me who may have to overcome cultural barriers and language challenges to keep faith in their abilities to create a positive impact in unique and original ways," Bhumgara said.
Helping others overcome barriers is a throughline in Bhumgara's life. Founder of Alpha Triumph Ltd., a tech-assisted training and learning enhancement organization based in India, the organization aims to develop personalized training resources to women and under-resourced communities through artificial intelligence and machine learning solutions.
Currently a lead product manager at Goalster, a technology startup company focused on improving organization, employee, and operational effectiveness, Bhumgara's research interests lie at the intersection of software engineering, machine learning, and design. She strives to create intuitive software systems that improve the quality of life, augment productivity, and connect people.
Huaxuan Chen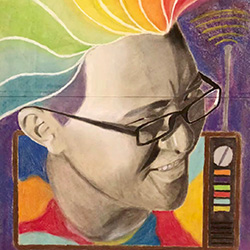 Chen is earning a combined bachelor of arts and master of science in computer science degree and pursuing a minor in Asian humanities from Northwestern's Weinberg College of Arts and Sciences. Previously a peer mentor for the COMP_SCI 213: Intro to Computer Systems course, he was a spring quarter peer mentor for the COMP_SCI 343: Operating Systems course.
"Chen has been a consistent presence on the team of our systems classes," a nominator said. "In 
COMP_SCI 213, he went above and beyond the normal duties by creating tutorial videos to help guide students through class projects. This quarter, he shepherded students in COMP_SCI 343 office hours and discussion sections on their journey to learn about the wonders of operating systems."
Chen defined the service of a peer mentor as inspiring students, investigating their hardships and problems, and invigorating curiosity.
"This award completes an important facet of my identity as a CS student as I am recognized to be able to guide my peers and make their passion for knowledge ripple for eternity," Chen said.
No stranger to cultivating passions, Chen described himself as a zealous bodybuilder, triathlete, rock climber, and painter. His research focus includes revitalizing legacy codes and improving performance.
Xamantha Laos Cueva
Laos Cueva, a data science and computer science student at Weinberg, strives to help students feel confident and build problem-solving skills in the COMP_SCI 111: Fundamentals of Computer Programming I course.
"Xamantha gives you all the tools you need to figure out the answer on your own, which
felt really great!" a nominator said. "She has been a true guide, showing students the
correct path, rather than just taking them to their destination."
Laos Cueva describes the peer mentor program as a support system that makes the student experience less intimidating, especially for those students who, like her, had no prior programming knowledge.
"I came to Northwestern without having written a single line of code before and I was very scared of taking my first CS class," Laos Cueva said. "I decided to become a peer mentor to help people with similar experiences."
Passionate about entrepreneurship, Laos Cueva works with two start-ups at The Garage at Northwestern. She is exploring different career paths at the intersection of technology and business.
Julia Odden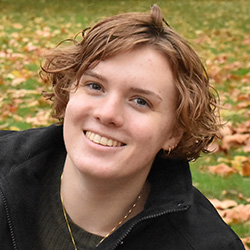 The sole peer mentor for the COMP_SCI 355: Digital Forensics and Incident Response course, Odden ('22) will start a master's degree program at Northwestern Engineering this fall with a focus on network and system security. Students noted her knowledge and passion for the course material.
Odden's research interests include Internet of Things network security and advanced persistent threat detection, particularly how intrusion detection systems work around or within containerized environments.


She helped manage course logistics behind the scenes in addition to working with students during office hours. Nominators recognized Odden's strong organizational skills and work ethic.
"Being a peer mentor is about three things: first, making the professor's life easier; second, being able to answer questions and provide guidance to students in a way that keeps them learning on their own, instead of just giving out solutions; and third, spreading enthusiasm for the subject matter and making people realize how cool it is," Odden said.

Odden is working as a digital forensics and incident response intern with Mandiant this summer. She plans to graduate in March 2023 and work in digital forensics and incident response. Long-term, she plans to complete Offensive Security Certified Professional certification and pursue red teaming.
An avid rock climber, Odden is also active in circus performance, namely lyra, silks, and static trapeze.
Henry Pereira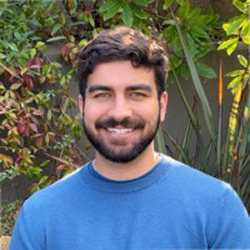 Pereira ('22) received an Outstanding Peer Mentor award for his support of students in the COMP_SCI 110: Intro to Computer Programming course, designed as an introductory entry point for non-CS majors interested in learning the fundamentals of computer programming using Python.
"Henry is the ultimate teaching professional. His goals and intentions are clear: students first," a nominator said. "He did whatever it took to serve students, sometimes spending hours crafting and revising additional materials."