Fostering Community Through Peer Mentorship
Northwestern CS undergraduate students Larina Chen and Jiayan Luo spearhead two department mentorship programs in 2022
The five-week, student-run Northwestern CS Career Development Program (CDP) officially concluded on May 27, but spring 2022 coleaders Larina Chen and Jiayan Luo are committed to encouraging long-term connections.
Now in its third year, the CDP aims to help computer science students explore career pathways, build and maintain convictions in their career choices, gain confidence in their individual skillset, develop strategies to achieve career objectives, and cultivate a support network.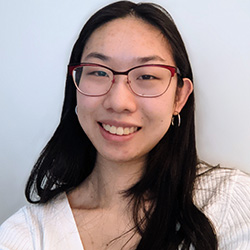 Former mentees of the program, Chen, a second-year computer science student in Northwestern Engineering, and Luo, a second-year computer science student in Northwestern's Weinberg College of Arts and Sciences, maintained the core ethos of the program – matching mentors with one or a group of mentees. Mentors and mentees met at least once a week during the program, and each group determined their own time commitment and activities.
Rethinking career development programming
To foster more active participation, Chen and Luo changed the overall program structure to include programming such as in-person kick-off and closing events, weekly emails, and virtual seminars.
Chen and Luo surveyed mentees to get a sense of their interests and goals and learned that participants sought information about career tracks and specific job functions.
Guest speaker Karan Bhasin ('22), an incoming software engineer at Google, presented the lecture "Intro to Software Engineering." Chen and Luo led seminars on summer internship alternatives and unconventional paths in computer science, including project management, UI/UX design, consulting, and business roles.
Chen and Luo drew on their own knowledge base and experience exploring career options to develop the program schedule.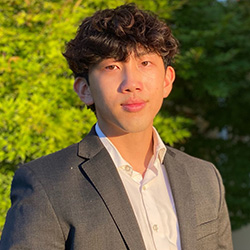 Since joining Northwestern, Luo has changed his academic focus multiple times, from machine learning research to quant analytics to software engineering to venture capitalism to startups. He is currently interested in pursuing product management.
"I've been very career-oriented since I started college," Luo said. "In each phase of my CS career, I dove deep into how the recruiting process works, what kind of experience is required, and how to get to the place you want to go. That background helped in facilitating a successful career program."
Chen and Luo empathize with the often daunting ordeal of determining where to start in career planning. They want to help students overcome inertia and lack of exposure by facilitating both vertical connections with more experienced students and horizontal connections with peers.
"It's hard to figure out what kind of person you are, what you like doing, and the type of work that is fulfilling to you," Luo said. "And it's very hard to project 20-30 years in the future and figure out what you might want to do long term and make decisions for a 'you' that's years in the future."
Chen and Luo used the program to address how to manage uncertainty and gain confidence.
"We emphasized that it's okay to not know what you want to do," Chen said. "And it's not a race. Don't feel deterred by not having as much experience as others."
Continuing the momentum of the session, Chen and Luo gathered suggestions for summer activities through a post-program survey. They are planning to set up infrastructure to continue supporting mentorship, including a Slack channel for organizing events like peer mock interviews, as well as a peer-advice resource page in Canvas that will cover topics from research opportunities to general guidance on navigating student life.
Supporting incoming students
Over the summer, Chen and Luo will also plan the details for the fall 2022 CS Buddy Program, the department's companion student-run mentorship program that supports first-year and transfer students who intend to declare or have already declared a CS major or minor. The Buddy Program is focused on helping students adapt to the college experience and engage in social activities.
"We have a mandate to foster community and help people get acclimated to the school," Luo said.
The CS Buddy Program and Career Development Program were launched by Alayna Richmond and Caryl Henry in 2020.
Chen and Luo recruited Career Development Program mentors by contacting previous program participants, requesting referrals, and asking friends. The program grew from 125 participants last year to 170 students this session (47 mentors and 123 mentees).
Megan Yaur, a fourth-year student earning a combined BS/MS in computer science and a Segal Design Certificate, mentored seven students this quarter — two from the fall 2021 Buddy Program and an additional five from the spring CDP. Yaur co-led the CS mentorship programs from spring 2021 to winter 2022 with Megha Ramanathan ('21).
Yaur praised the program changes implemented by Chen and Luo this quarter.


"Routine is key to a successful mentorship program," Yaur said. "Without programming or regular meetups, it's difficult to gauge how well the program is doing. Jiayan and Larina are managing the program very well this year by introducing events and sending regular emails to mentors and mentees. They're transforming the program into a structured organization."
Minseo Kim, a second-year student in computer science and psychology at Weinberg, joined the program to receive guidance on beneficial career preparation activities beyond coursework.
"I not only gained insight into the CS recruitment and internship process, but I also met other CS students I may never have gotten to know or talk to otherwise," Kim said. "I was able to direct the questions I had gathered during my first year as a CS student."
Chen and Luo noted several groups of mentors and mentees developed strong bonds during the spring session.


"As a mentor, I get the chance to reflect on how I've grown as a student and leader. I've grown very close with my two mentees from the Buddy Program, Daniel Lee and Ella Shin, and they impress me so much with their enthusiasm," Yaur said. "As a senior now, it's certainly reassuring that I have learned how to land job offers, finish my CS degree, and pass all this knowledge on to those who need it the most. Mentoring Daniel and Ella has been a nostalgic experience for me since I had so many of the same questions as them, but most importantly I gained two buddies who I love to spend time with."


Chen and Luo recalled their own positive experiences as mentees. Luo is still in regular communication with his mentor. Chen was not a declared computer science major when she joined the Career Development Program as a mentee. She credits her mentor, Cindy Hu, a third-year undergraduate in computer science at Northwestern Engineering and in communication studies at Northwestern's School of Communication, for providing her with a crash course of foundational knowledge and helping her feel more comfortable and welcome in Northwestern CS.


A new set of student leaders will run the CS Career Development Program in spring 2023 and fall 2023 CS Buddy Program.