Xiao Wang Awarded Chainlink Research Grant
Wang will collaborate with Chainlink Labs to conduct research on various oracle technologies
Xiao Wang, assistant professor of computer science, received a Chainlink Community Grants program research award from Chainlink, the most widely used secure decentralized oracle network. Wang will collaborate with Chainlink Labs to research oracle technologies, with a specific focus on the implementation of the company's DECO, a privacy-preserving oracle solution.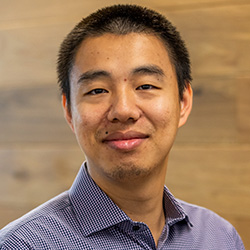 DECO is an oracle protocol that enables users to prove facts about their web sessions (HTTPS/TLS) to oracles without compromising data privacy. Using DECO-enabled Chainlink oracles, organizations can prove the state of their private data to other enterprises on public blockchains without ever revealing the data held in their internal systems.
"Chainlink and DECO's privacy-preserving technology holds significant potential for driving new and diverse uses for smart contracts [agreements written into lines of code]," Wang said. "I look forward to working with the Chainlink Labs team on the next frontier for smart contracts, and further improving DECO to unlock this technology for even wider adoption."
Originally created by researchers at Cornell University, DECO was recently acquired by Chainlink Labs to integrate its technology into the Chainlink Network.
"Chainlink and DECO have the potential to transform the smart contract ecosystem in the same way that HTTPS completely reimagined private commerce and communication on the internet," Chainlink Co-Founder Sergey Nazarov said. "To fulfill our mission, we seek to work with the best minds in cryptography and we're eager to collaborate with Dr. Wang as one of the leaders in his field."
Chainlink Community Grants program empowers members of the Chainlink ecosystem as well as researchers who are building tools and infrastructure that accelerate the development of universally connected smart contracts and oracle networks.