Northwestern Researchers Claim Four Major Awards at UbiComp
The annual event, held virtually this year, drew more than 1,000 submissions with about 100 papers accepted
Northwestern faculty earned four of the top awards at UbiComp 2020, a premier interdisciplinary venue for researchers, designers, developers, and practitioners of computing. The annual event, held virtually this year, drew more than 1,000 submissions with about 100 papers accepted. 
The ACM IMWUT Distinguished Paper Award went to microStress-EMA. It was presented by the HABits lab run by Nabil Alshurafa, assistant professor of preventive medicine at Northwestern University Feinberg School of Medicine and (by courtesy) computer science and electrical and computer engineering at Northwestern Engineering. The analytical framework uses machine learning applied to electrocardiography (ECG) and self-report measures to understand how physiological stress aligns with pregnant women's reports of stress. The project is a collaboration with Roozbeh Ghaffari, director of translational research and research associate professor of biomedical engineering; Judith Moskowitz, professor of medical social sciences; John Rogers, Louis Simpson and Kimberly Querrey Professor of Materials Science and Engineering, Biomedical Engineering and Neurological Surgery and (by courtesy) professor of electrical and computer engineering, mechanical engineering, and chemistry, and Lauren Wakschlag, vice chair for scientific and faculty development, department of medical social sciences, at Feinberg.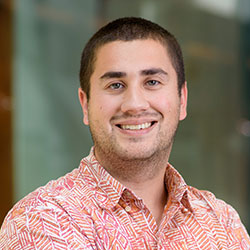 The Best Presentation Award — Audience Choice was awarded for the Battery-free Game Boy. The handheld game is the first battery-free interactive device that harvests energy from user actions. It was presented by the Ka Moamoa lab run by Josiah Hester, McCormick School of Engineering assistant professor of electrical and computer engineering, computer science, and (by courtesy) preventative medicine at Feinberg. 
In that same category, NeckSense, a collaboration between Alshurafa and Hester, tied with Game Boy, and earned second place. The paper was presented by lead author Shibo Zhang, a Phd student in computer science and member of Alshurafa's HABits lab. The wearable device precisely and passively records eating and chewing behaviors in people with and without obesity.
"Josiah and Nabil's collaboration is an exemplar of the kind of work in CS+X we had envisioned — bringing cutting-edge research in computing to impact human health," said Samir Khuller, Peter and Adrienne Barris Chair of Computer Science and professor of computer science. "CS+X is designed to specifically bring problems of societal importance directly to the attention of computer scientists, and therefore leveraging the computational lens in addressing those challenges."
Best Poster Award was given to VibroScale. The app, which leverages a smartphone's vibration motor and accelerometer to estimate weight of objects, was developed by Alshurafa's HABits lab. Postdoc Sougata Sen served as coauthor. 
In addition, a paper on SyncWISE, led also by Alshurafa's HABits lab, an algorithm that handles the challenge of aligning video and accelerometer signals from two separate devices, was published and presented at UbiComp 2020.