Blockchain Breakthrough
Professor Aleksandar Kuzmanovic and Uri Klarman, cofounders of bloXroute Labs, have a solution to the blockchain scalability problem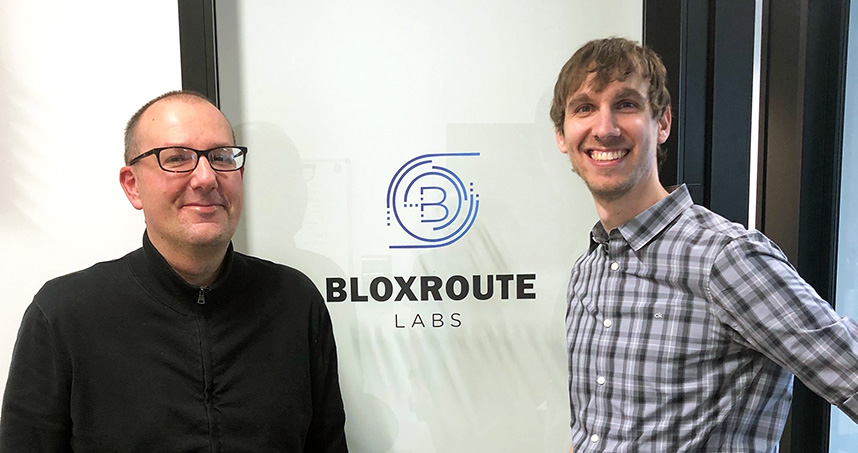 When Uri Klarman, a software developer from Israel, decided to pursue his PhD in Computer Science at Northwestern Engineering in 2014, the last thing he thought he wanted to be was an entrepreneur.
Then he met Aleksandar Kuzmanovic, professor of computer science, who specializes in networking and net neutrality. The pair clicked instantly, and within five years they created the blockchain solution start-up company bloXroute Labs, which raised $10 million in seed funding from leading venture capitalists. 
The project came together after Klarman's first academic endeavor at Northwestern focused on computer networking and wifi security. He submitted it the Association of Computing Machinery's Special Interest Group on Data Communications (SIGCOMM) conference, and he got rejected. Twice.
Kuzmanovic, who heads up the Northwestern Networks Group, suggested refocusing the research on blockchains from a networking standpoint. From there, the idea for bloXroute was born.
In Bitcoin and other cryptocurrency networks, the central problem is scalability. Bitcoin has an inherently decentralized structure, which makes processing and completing financial transactions across global blockchains — the digital ledgers that record cryptocurrency transactions — slow and inefficient. From a networking perspective, the bottleneck is around sending data to a lot of people quickly. 
"This was a networking problem," Klarman said. "And we knew we could solve it. Not only that — we could build a company, not a million-dollar company but a billion-dollar company. We felt that this was really big. It was too big not to do it." 
Their proposal: a Blockchain Distribution Network (BDN) that could scale all blockchains using advanced networking techniques such as internal caching, encryption, cut-through routing, optimized topology, and dynamic route selection, without compromising security or decentralization. 
In late 2017, Kuzmanovic and Klarman began reaching out to investors. Their seed round was valued at $10 million and backed by venture capital firms such as Flybridge and by Naval Ravikant, the CEO and co-founder of AngelList. Now, Kuzmanovic is Chief Architect and Klarman (PhD, '19) is CEO of bloXroute, joined by co-founder and COO Eyal Markovich.
Since then, the Evanston-based start-up's first product test in 2019 was on Ethereum — the second largest blockchain network — which processed transactions at a rate of 12 transactions per second (TPS). The results of the Ethereum test were significant: bloxRoute's BDN was able to cut the block propagation times by 50 percent, paving the way for scaling.
"For Ethereum to be willing to accept the test and integrate with us, we can't overstate how big that is," Klarman said. "The test results proved that our product can substantially impact the way people use the network." 
The successful Ethereum test set the stage for more collaborations between bloXroute and top blockchains such as Bitcoin Cash, culminating in the official launch of bloXroute's BDN Version 1 in December 2019.
"After the Ethereum and Bitcoin Cash rollouts, we're getting overwhelmed by requests from other leading blockchain projects because our system helps to scale them all," Kuzmanovic said. 
The company now has more than 20 employees, with offices in Evanston and Tel Aviv, Israel. Kuzmanovic and Klarman credit their success to their ability to work on research that is exciting to them — a quality Klarman says is uniquely Northwestern.
"We're here because we want to do the most exciting research," Klarman said. "At Northwestern, it doesn't matter if you just started your work. You get the support from the University and faculty that you need."
Kuzmanovic's support was crucial to Klarman. "When we were planning bloXroute, at some point he said, 'You have to think about your academic career, too.' He always had my best interests as my professor. Starting this company didn't take precedent over my academic work." Klarman presented his dissertation, "Unchaining the Blockchain Network Layer," in 2018 and defended it in early 2019.
"Uri is the best PhD student I had a chance to work with, and I was convinced he'd end up in academia," Kuzmanovic said. "But he is now discovering his new talents while leading bloXroute. Another key to bloXroute's success I believe lies in a completely fresh and unique look at a big problem, which is the culture and thinking I truly cherish and foster at the networks group at Northwestern."