Faculty to Study Human-computer Interaction through Google Faculty Research Award 
Haoqi Zhang and Darren Gergle will research ways to help machines better understand human situations
Northwestern Engineering's Haoqi Zhang, assistant professor of computer science and design, and Darren Gergle, professor of communication studies and (by courtesy) computer science, received a 2018 Google Faculty Research Award for their human-computer interaction work on "Computational Tools for Expressing Conceptually Rich Situations to Machines."
The one-year grant will fund Zhang and Gergle's work to develop principles and tools to help program machines gain a deeper understanding of human situations, which Google and other engineers can implement. Mozziyar Etemadi, research assistant professor of biomedical engineering and anesthesiology, also received a Google Faculty Research Award.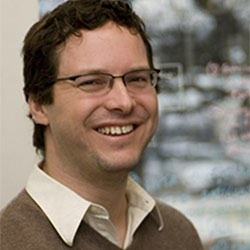 The Google Faculty Research Award supports the development of new technologies to help users find and use information. The awards aim to recognize and support world-class, permanent faculty pursuing cutting-edge research in areas of mutual interest through long-term collaborative relationships to work on problems that will affect how future generations use technology. Only 15 percent of applicants receive funding following a rigorous Google-wide review process.
The Northwestern team's work aims to transform a high-level human concept of a situation into a low-level machine representation that can be acted upon computationally through an opportunistic construction process, as well as evaluation of machine detectors. For example, this work could help applications understand conceptually-rich situations users may search for like "where to go to toss a frisbee" or "restaurants to visit on a cold day," whereas existing applications are only capable of responding to simple queries that match specific features that machines know about like "parks" or "restaurants serving soup."
"We are absolutely delighted to be receiving this award. A foundational challenge to improving how computing systems can support our activities in the world is advancing their ability to recognize and act on rich, human situations," Zhang said. "This work will provide new principles and tools that help developers and end-users imbue machines with a deeper understanding of human situations and contexts, and the actions and interactions they afford."
Zhang's research advances the design of integrated socio-technical models that solve complex problems and advance human values at scale. His research bridges the fields of human-computer interaction, artificial intelligence, and social and crowd computing.
Gergle specializes in human-computer interaction, computer-supported cooperative work, and computer-mediated communication, with an interest in developing a theoretical understanding of the role that visual information plays in supporting communication and group interactions.