EECS Undergrad Naomi Gutstein Named Forbes Under 30 Scholar
She attended the summit, held October 16-19 in Boston, Massachusetts.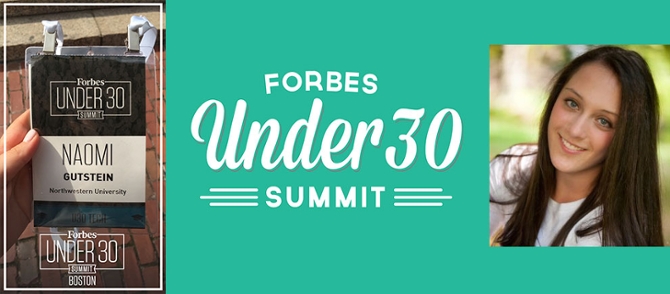 EECS Undergraduate student Naomi Gutstein (CS 17') has been named an Forbes Under 30 Scholar and was invited to attend the Forbes Under 30 Summit, held October 16-19 in Boston, Massachusetts. At the gathering, more than 5,000 inspired young entrepreneurs and game-changers from all over the world gathered to collaborate and learn about new innovations within a wide range of topics, including technology.
In describing her experience, Gutstein said, "Not only did I leave the Summit with a new wealth of knowledge, I also left with new friends and connections! The Forbes Summit was an incredible opportunity to meet other passionate individuals excited to take on different projects and make an impact on the world."
The summit featured speakers, such as Sir Richard Branson and Ashton Kutcher, who shared their wisdom about the start-up landscape and left attendees with advice about what it takes to be a successful entrepreneur. Ashton Kutcher declared that, "You need to be a dreamer to be a venture capitalist, to believe a new product can exist [and to] find a way to be generous with your work and measure everything."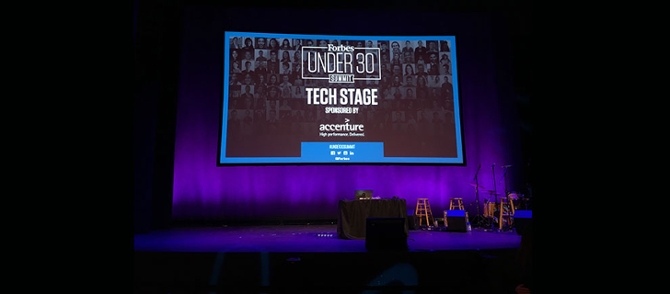 One of the most inspiring individuals Gutstein met was 15-year-old Itay Pincas. She remarked of her experience, "The second day of the conference, I was standing in line to get coffee at Starbucks when I heard two people behind me speaking about the interesting speaker events about to take place. When I realized they were also there for the Under 30 Summit, we began to speak. Itay told me he had created his own tech company that Forbes had recognized, and that was why he was included in the Summit. When telling me about his background, I realized that he was only starting high school! I asked how he started his own company and how he learned to code. He told me that he had taken a computer science class and then just continued to program and take on different projects. I was so impressed with his motivation and excitement towards technology. Itay was just one of the many young technologists and entrepreneurs who were at the Summit."
Gutstein is currently a senior studying computer science in Northwestern's McCormick School of Engineering and Applied Science. Her professional goal is to combine her passion for technology with her entrepreneurial spirit. Throughout her time at Northwestern she has demonstrated this enthusiasm through her involvement as president of TAMID Group, The Garage incubator for Northwestern ventures, and her multiple internships with startups. Within computer science, she is specializing in user interface design and artificial intelligence. She is pursuing these concentrations because of the opportunity for worldwide impact.