Razeghi delivers Presentation as a Keynote Speaker at NATO Specialists Meeting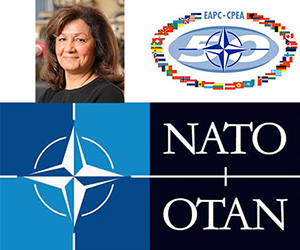 Prof. Manijeh Razeghi's delivered a presentation at the NATO Specialists Meeting on Novel Infrared Laser Technology for Modern Battlefield Requirements, held on July 24-25, 2014 at the Defence CBRN Centre near Salisbury, England.
Prof. Razeghi was the Keynote Speaker for the Infrared Diode Technology session, where she presented a talk, titled, "Recent Advances in Mid-Infrared Laser Diodes for Infrared Countermeasures at Center for Quantum Devices (CQD) at Northwestern University."
At the event, 46 attendees from 7 nations enjoyed a stimulating, exciting and condensed couple of days exchanging ideas, concepts and information on the latest developments in laser technology and discussing the needs of emerging and enduring military laser requirements. The meeting reviewed the applicability and technical readiness of various infrared laser technologies against modern military requirements.