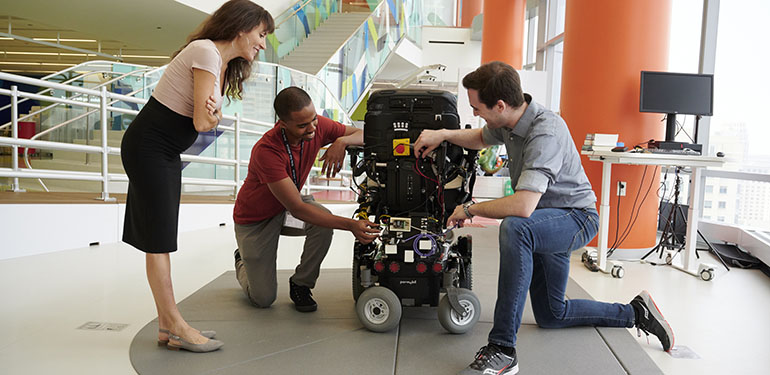 Master of Science in Computer Science (MS)
The Department of Computer Science is a supportive, inclusive, and enthusiastic community for world-class research and scholarly advancement. Graduate students in the master's degree program personalize their academic path to fit their research interests and career aspirations.
Research Areas of Excellence
Learn more about research in computer science
Curriculum and Requirements
Twelve units of graduate-level credits with letter grades are required for the MS degree. Coursework can be completed in three or four quarters. Students work with the director of the MS program to develop plans of study to meet their individual goals. Students can select the MS course degree plan or work with a CS faculty research advisor on a formal research master's thesis or application project.
Curriculum MS Graduate Study Manual
Request More Information
Download a PDF program guide about your program of interest and get in contact with our graduate admissions staff.
Request info about MS degree Apply Now
Professional Development
Professional development opportunities include laboratory research experience, teaching, and attending conferences and workshops. Career advisors in Engineering Career Development and Northwestern Career Advancement are available to assist students with career development.
Career Paths
The wide range of career options for graduates of computer science includes:
Software development and engineering
Information technology consulting
Database and systems analysis
Data analytics
Financial risk analysis and trading
Computer science graduates at Northwestern are recruited by employers in nearly every industry. Recent graduates are pursuing careers with organizations including Amazon, Deloitte, Epic Systems, Expedia, Facebook, Google, Groupon, IBM, Microsoft, Nielsen, Oracle, Paypal, Qualtrics, Twitter, UnitedHealth Group, and Visa.
The program also provides effective preparation for PhD studies.
More in this section