Learning the Language of Science 
Austin Miller talks about how MBP gave him the skills and confidence to pursue his PhD and opened the door for a pending career choice.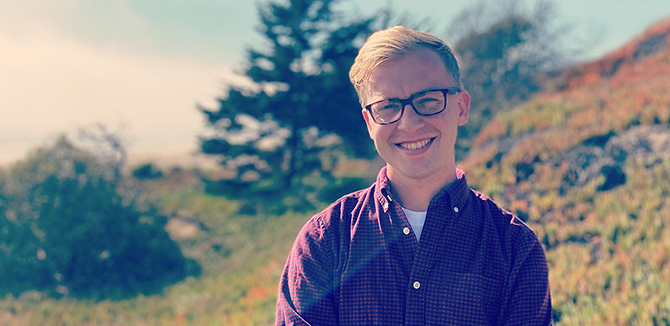 When Austin Miller looks back at his time in Northwestern Engineering's Master of Biotechnology Program (MBP), he thinks of it as something similar to learning a foreign language.  
Miller (MBP '19) is pursuing his PhD in biomolecular science and engineering at the University of California, Santa Barbara (UCSB). His research aims to create a biotechnology to detect early changes in the brain at a cellular level. That technology would help doctors treat or prevent conditions that currently lead to long-term health issues.  
He said he wouldn't be able to conduct that research without MBP.  
"The engineering classes were some of the most helpful for preparing me for my PhD program," he said. "Engineering gave me a language to understand biology through."  
Being able to speak that language is critical to the work he is doing now and the work he plans to do in the future.  
Miller has been steeped in science for a decade. One of the biggest lessons he learned in MBP was that being good at science wasn't enough to make the difference he plans to make.  
"MBP's professional development workshops and seminars taught me so many important skills," he said. "Science is not just about being good at the job from a technical standpoint. You also need to be able to communicate ideas and sell yourself to others."   
Because of his MBP education, Miller is now adept at translating his complex research at UCSB into terms the average non-scientist can understand.  
In essence, he is using an MRI to look inside the body and taking a specific protein to illuminate certain cells that could indicate if a change is occurring. Those changes could be the earliest indicators of a developing medical issue.  
He said the MBP is a key factor in why the research he's doing now is going well.  
"My PhD research would have progressed much slower if I had not learned a lot of the lab techniques that I am using now while I was working on research at Northwestern," he said. "I learned how to ask a good research question and how to plan good experiments. These are some of the most important skills you can have coming into a PhD program."  
Earning that PhD has been a goal for Miller since he was an undergraduate. That said, it wasn't something he thought was attainable until he started the MBP.  
"I was not very confident in my ability to actually make it through a PhD program," he said. "My experiences in MBP gave me the confidence to pursue this career path."   
Now, Miller is pondering his post-PhD future. He anticipates a 2025 graduation and still is deciding between continuing as an academic with a postdoctoral fellowship at a research university or veering off into an industry job.  
MBP helped lay the foundation for him to have that choice, he said, and it all comes back to being able to speak the language of science to a wide variety of audiences.   
"There are benefits to both paths," he said. "MBP is a great program. Not all classes offered are hardcore engineering and science, and that is actually very beneficial. Being able to communicate and engage with your peers in a professional way is extremely important."