Answering a $1 Billion Question
Samuel Chiang (MBP '22) examined the drug development competitive landscape for Huntington Disease management and presented his findings to Northwestern Engineering's Master of Biotechnology Program (MBP) Industrial Advisory Board.
Samuel Chiang wants to help companies spend precious R&D dollars wisely. 
The average cost to bring a new drug to market in the United States is more than $1 billion, according to a 2020 study published in the Journal of the American Medical Association, and  Chiang (MBP '22) has prepared himself to effectively analyze whether there's a niche in the marketplace for what a company is considering developing.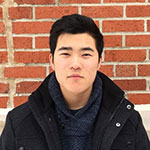 "Given the exorbitant cost of drug development, it's critical that companies know who they're playing against and ways that they can differentiate to gain competitive advantages in the market," he said. "When done well, competitive intelligence has the profound ability to inform corporate strategy at a very early stage of drug development."
Chiang recently presented his findings on the competitive landscape for Huntington Disease management to the Industrial Advisory Board (IAB) of Northwestern Engineering's Master of Biotechnology Program (MBP). His work earned him the Best Poster Presentation award from the IAB, which consists of 15 business leaders from around the life sciences sphere, including companies such as AbbVie, Eli Lilly, Genentech, and Merck.
"It's encouraging to be recognized for your hard work," Chiang said. "This award was an affirmation from the IAB that I was able to communicate my results in a clear, engaging and concise way." 
Chiang's ability to do that was sharpened during his time with the MBP and helped him land his first post-graduate-school job as a consultant with Oliver Wyman, an international management consulting firm. There, he will serve as a general consultant, with a goal of ultimately honing in on life science consulting. 
The job is far different from the one he thought he would be pursuing just a few years ago. Chiang originally wanted to go into medicine, but after earning his undergraduate degree in biology from Grinnell College in 2020, he pivoted. His interest in science remained, but his desire shifted to management consulting, and MBP was the perfect program to help him get there.
"With the goal of pursuing a career at the intersection of business strategy and life science, I was confident MBP's comprehensive curriculum, hands-on research component, and emphasis on team-based projects would make me a competitive applicant who had deep knowledge of the biotechnology industry," he said. 
MBP's focus on group projects allowed Chiang to become a more effective leader and team player who could adapt quickly to changing dynamics. The program's connection with the life science industry for internships and research, as well as the IAB's mission to keep MBP's coursework aligned with the business world's needs, helped Chiang and his classmates develop relevant skills for the job market. 
Chiang also benefited from electives through Northwestern's Kellogg School of Management, which helped him become more well-rounded and competitive as a job applicant. 
"I took two courses at Kellogg and was able to apply those learnings directly to my internship and research," he said. "Students from the MBP program have honed their critical thinking skills through the challenging curriculum, have worked on countless project teams, and have the hands-on experience to pair with their theoretical knowledge."