The Importance of a Diversified Student Body
Northwestern Engineering's Master of Biotechnology program (MBP) is specifically designed for biologists and engineers to succeed — no matter their background or experience.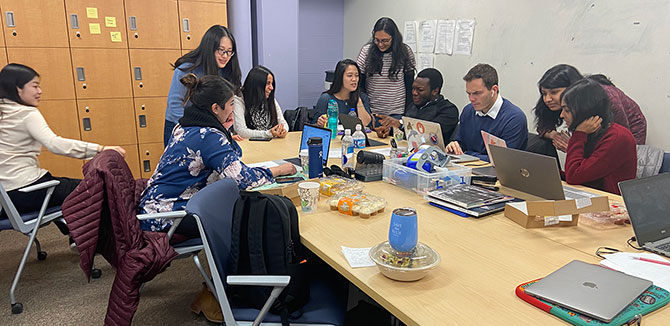 By Danielle Tullman-Ercek
Some of the most notable innovations of our time came from scientists and engineers working together at the intersection of different fields. Their backgrounds were varied, yet they were able to overcome that in order to achieve a common goal.  

The Northwestern Engineering Master of Biotechnology program (MBP) recognizes the value and importance of diversity, and we strive to bring in students from a variety of majors, institutions, and cultures around the world. Each student's unique experiences will shape not only how they think about and solve problems, but also, hopefully, prompt insights among their fellow students. 
One of the biggest variances we see among our students is whether or not they come in with a biology background. Since 2014, approximately 60% of our students had undergraduate degrees in biology, 20% had a degree in engineering and 20% had their degree in a different science. 
Routinely we hear concerns from students with science backgrounds that engineering courses require a huge learning curve, and admittedly there is trepidation about these types of heavily-quantitative courses. Similarly, students with engineering backgrounds worry they have to learn or memorize the jargon of the biological sciences and adjust to working on problems for complex systems they don't fully understand. 
To each of these audiences, I say, rest assured. You can handle it.  
We structured the MBP curriculum to be flexible for our students' different backgrounds. Those students who are engineers will take molecular and cell biology courses if they have not done so already, while scientists will take two courses designed specifically for the students in our program — and taught by MBP faculty — to learn the relevant biochemical engineering fundamentals.  
We make an initial recommendation for these courses based on each student's transcripts and then discuss the recommendation in one-on-one summer advising meetings. Sometimes a course name on a transcript does not always tell the whole story of what was addressed, and we want to make sure we have an understanding of what our students already know. During those meetings, we also learn about each student's future plans as well as their confidence level in their skills so that we can then offer further suggestions for customizing their courses in the first quarter. 
MBP also has a lounge exclusively for use by our students, and groups of students are often there working together on course assignments. This is one of the primary places where first-year students can interact with and get advice from the second-year students. This type of informal peer mentoring and support can increase success rates in STEM, so we foster interactions like this as much as possible. 
Biotechnology is a truly global industry, and many of the larger companies have global workforces with locations around the world. Our Industrial Advisory Board members tell us that by working in teams with members of such diverse backgrounds throughout the MBP curriculum, our graduates are uniquely poised to jump right into the biotechnology community and make an impact on people's lives around the world.
Danielle Tullman-Ercek is the director of the Master of Biotechnology program at Northwestern University.