Building My Confidence as a Synthetic Biology Intern
Master of Biotechnology program (MBP) student Sara Wixon looks back on her internship at LanzaTech and how she thinks it will prepare her to move forward professionally.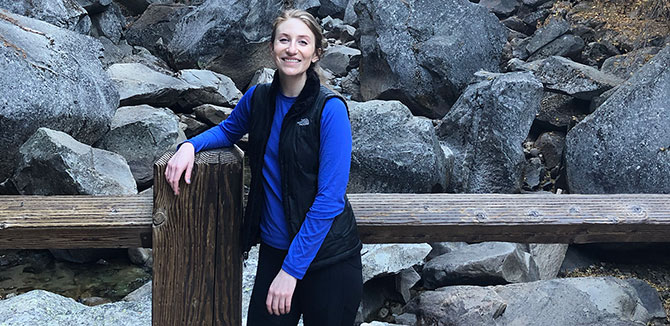 Sara Wixon entered Northwestern Engineering's Master of Biotechnology program (MBP) straight out of undergraduate school, and one component of the program that truly appealed to her was the optional internship opportunity.
MBP is built on the importance of practical learning opportunities, which is why students are given the chance to pursue an optional internship or co-op after three quarters in the program. 
Wixon spent six months at LanzaTech as a synthetic biology intern. She recently took time to reflect on the opportunity, including what she learned and how she thinks she'll be able to build on the hands-on experience she received. 
What were your roles and responsibilities at LanzaTech?
I got to work on an independent characterization project with direction from my supervisor, Audrey Harris. My project was focused on characterizing genetic parts in LanzaTech's proprietary microbial strain. To do that, I built almost two dozen strains with genetic parts of varying strength and tested their strength with four different reporter genes. My overall goal was to do some preliminary characterization of common parts, as well as to help develop and choose reporter gene assays for future use. 
What were two or three things you learned from the opportunity?
I learned a lot about how to manage timelines in a professional environment. Unlike academic labs, I could only work Monday-Friday during the day, so I had to carefully plan how and when to start experiments. Another thing I learned was how important safety and engineering controls are. LanzaTech uses carbon monoxide-rich gases as the feedstock for their bug, so it was crucial to always be aware of what was going on and to always wear the proper protective equipment. 
How do you think you'll able to apply your internship experience to the rest of your time in MBP?
Because MBP coursework is focused more on bioprocessing applications, I think it'll be interesting to use my knowledge of synthetic biology in relation to the more downstream work of bioprocessing. What can the synthetic biology team do to make harvesting the final product easier and more efficient? 
How important is the internship to the overall MBP experience?
For me, it was very important. Since I came directly from undergrad I was really eager to get some work experience and I'm so happy I did. I feel a lot more confident about my future job prospects. 
What was it about MBP that first appealed to you?
My undergrad degree was not very quantitative, so I was really interested in MBP's focus on the engineering aspects of biotechnology. I was also really excited about the different research preceptors available to work with as an MBP student. 
How would you describe your MBP experience?
Two things come to mind — flexible but intense. Taking classes while doing research is always a balancing act, and I chose to continue to take classes during my internship as well. However, it was really satisfying to see how some of the things I was doing in the lab would come up in my classes, and vice versa. MBP is also an incredibly flexible program in that there are many research areas available, and the administration encourages students to pursue opportunities whenever the time is right. 
What do you hope to be doing after graduating from MBP?
I want to continue doing technical work for a company that values sustainability. I'm not sure whether that'll be on the science or engineering side of things yet. 
Is there anything else you'd like to add?
One thing that was really helpful for me, although I needed a push sometimes, was to sit down with colleagues in my department and outside of it. I learned a lot more about LanzaTech but also got a lot of useful life and work advice.