An Inside Look at Regulatory Affairs
Andrea Redd takes Master of Biotechnology program (MBP) students behind the scenes of her work at Fresenius Kabi.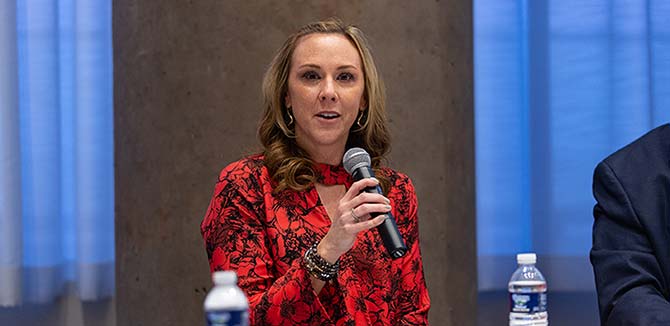 Andrea Redd is the senior director for regulatory affairs combination products at Fresenius Kabi. In that role, she manages a team of more than 40 regulatory specialists responsible for the entire life-cycle of a product, from feasibility to post-approval changes. 
Redd's areas of focus include the development of generic molecules in differentiated packaging systems, most notably in pre-filled syringes and autoinjectors.
Earlier this year, Redd visited Northwestern Engineering's Master of Biotechnology program (MBP) to participate in Biotech-Nexus, a panel discussion about the diversity and opportunities present in the world of biotechnology. She also spoke about her work in regulatory affairs, what would surprise most people about the field, and what tool she uses to demonstrate a generic drug's impact to the U.S. Food and Drug Administration (FDA).
How do you describe your daily responsibilities?
I work with generic drugs looking to get them approved with the FDA. It can sound really dry and boring, but every day is different and every day has a unique challenge. When you work with a governmental body — the end-all-be-all to get these drugs to market — the job is about coming up with negotiation tactics and creative writing in order to get your story across and get your drug approved and out the door quickly to the patients.
What do you like most about the job?
There are a lot of negotiations involved. People hear regulatory affairs and often they either don't know what it is or they think we're just writing documents to submit to the FDA all day. There are more interpersonal interactions than you think with the FDA, including getting on the phone or in meetings with them and walking them through your strategy and your overall way to get the drugs to market. It's empowering to really show the FDA what you're trying to put forward and help patients with. 
What is a normal timeline for getting a drug approved?
Right now, it's about 18-20 months to get approval of a generic drug. That time involves a lot of generating data and putting together a high-quality data package, and then it's interpreting the questions you get back from the FDA. The longest part is really interpreting what the FDA wants. Every single product application you send in, you're going to get different questions back, so it's definitely not a cookie-cutter process. Every project and every drug is unique. 
What would surprise people about your job?
The science behind it. People hear generic drugs, and they say, "Oh, you're just a me too, you're a copy." Sometimes making a generic drug is almost as challenging as coming up with a brand new chemical. You've got to make sure you fully match the branded drug and that you're completely interchangeable with it. There is a lot of science and there's a lot of storytelling behind it to show that you are comparable and equivalent.
How is storytelling involved?
We use storytelling to put together data packages in a way that is more self-explanatory to the FDA. A lot of people have the tendency to data dump, thinking the more data they push out or the more technical terms they throw in, the faster their drug will get approved. You can use storytelling to demonstrate to the FDA that you've got a high-quality product.