Why I've Partnered with MBP for Nearly a Decade
Dr. Kumar Dhanasekharan shares what he thinks differentiates Northwestern's MBP students and why now is the best time to work in biotech.
Editor's note: In October 2019, Dr. Kumar Dhanasekharan became vice president of technical operations at SwanBio Therapeutics.
Dr. Kumar Dhanasekharan is Executive Director and Head of Technical Development at Amicus Therapeutics in Cranbury, New Jersey, where he is responsible for development and scale-up of biologics and gene therapy of early and late phase programs.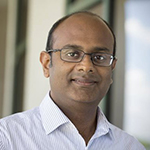 Prior to his current role, Dhanasekharan was head of process and analytical development at Cook Pharmica (now part of Catalent), and before that he held various leadership roles at Genzyme.
Dhanasekharan is an industry thought leader who has collaborated with Northwestern's Master of Biotechnology program (MBP) for nearly a decade. He recently shared more about his role at Amicus, his relationship with MBP and why, as he puts it, "there has never been a better time to be in biotech."
First off, how do you describe what Amicus does?
Amicus Therapeutics works in developing life-changing treatments for rare metabolic diseases — often impacting a few hundred to a few thousand patients. One example is Pompe – a glycogen storage disorder where the build-up of glycogen causes progressive muscle weakness (myopathy) throughout the body and affects various body tissues, particularly in the heart, skeletal muscles, liver, and the nervous system. Recently, we've been using gene therapy to work on Batten's disease, which is a collection of rare inherited neurodegenerative diseases that affect young children and can be fatal. Many forms have no cure or treatment yet. Gene therapy is a technique to directly insert the corrected gene into the patient cells.
How do you describe your personal role at the company?
I am responsible for technical development. This includes process development, scale-up, analytical methods development, and transfer and drug product development – these are collectively called CMC (Chemistry-Manufacturing-Controls) Development. My team takes the promising drugs with early proof of concept from discovery science and advances them through the pipeline to enable large scale production, initially for animal toxicology studies and subsequently to Good Manufacturing Practice clinical manufacturing.
What got you interested in biotech?
I am a chemical engineer by training from the Indian Institute of Technology (IIT) in Chennai and later received my PhD in Food Science from Rutgers. I was fortunate to get a good understanding of biological sciences along with a strong engineering foundation. The multidisciplinary aspect of biotech caught my attention early on.
What do you think the state of biotech is in 2019, and where do you think the industry as a whole is going in the next few years?
There has never been a better time to be in biotech. The industry is working on many different modalities — from complex engineering antibodies and glycoproteins to bispecifics and fusion proteins — across immunotherapies for cancer, HIV, various auto-immune disorders, and more.
In what ways have you or Amicus overall worked with past or current MBP students?
I have been involved with MBP since my years at Genzyme nearly 10 years ago. Since I started at Amicus about 2.5 years ago, we have had four co-ops every year and also offered a site visit to many MBP students as part of their industry tours. We continue to hire some into permanent positions and are looking to have additional co-op students soon.
In what ways do you think MBP prepares students to enter the biotech space and be immediate contributors?
Their practical hands-on experience with lab operations, strong understanding of the fundamentals and good engineering skills are some of the MBP program benefits that I see.
What is it that you like about working with students from MBP?
MBP students are definitely some of the brightest and talented students I have ever worked with, and I am impressed with their level of training and strong aptitude to learn.