Research in Biotechnology
Current student Daniel Fernandez talks about his experience in Northwestern's Master of Biotechnology program (MBP) and the research project he currently is working on.
Daniel Fernandez knew he wanted a career in biotechnology. As he was considering how to make that happen, he knew that he wanted a graduate program that could give him a combination of new skills and industry exposure.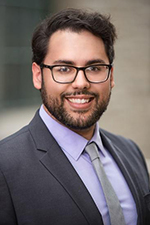 He found that and more in the Master of Biotechnology Program (MBP) at Northwestern University. Now, as a current student in the program, Fernandez is getting the knowledge he needed and the hands-on experience he wanted. In between quarters, Fernandez took a few minutes to talk about his early impressions of MBP and recap his research project.
What was it about MBP that initially appealed to you?
When I first started my search for a program to continue my education, I gravitated to MBP due to several of its aspects. The first was its focus on giving students a wide encompassing view of biotechnology from the research and development side to the business aspects of the industry. Another appealing aspect was the emphasis on giving students as many opportunities as possible to gain experience in an industrial setting in the form of internships offered by a variety of biotechnology companies across the country.
How important was the research emphasis of the program in your decision to enroll in the program?
The inclusion of research as a part of my education was a large part of my decision in attending MBP. It ensured that I would be able to grow my skills as a scientist in order to better prepare for a career in biotechnology.
What are you currently researching and what do you hope to accomplish with it?
A major issue with designing new drugs for neurological diseases is the fact that the blood-brain barrier prevents many large particles from reaching the brain. This is done as a security measure to prevent harmful entities from coming in contact with the center of the nervous system. However, this also blocks crucial therapeutic drugs from reaching the brain to treat diseases like Huntington's Disease. As a way to counter this, my current research proposes leveraging particles called extracellular vesicles that are used constantly by cells for communication and also have the ability to cross the blood-brain barrier with ease. By modifying these vesicles, I am working to engineer a new delivery system that can bypass this barrier and carry life-saving drugs to the brains of patients suffering from neurodegenerative disease.
What are your professional goals after MBP?
I am in the process of continuing my scientific career through the pursuit of a research and development position in the biotechnology industry.
How do you think MBP will prepare you to make that happen?
I believe that MBP has prepared me very well with a large number of opportunities for professional development. This includes meet-and-greet events with potential employers, updates on the latest internships, and all of the available resources for improving the skills necessary for joining the workforce.