Connecting MBP Students with Industry Leaders
Northwestern's Master of Biotechnology program's recent trip to San Diego introduced students to Gilead Sciences, Illumina, and Catalent.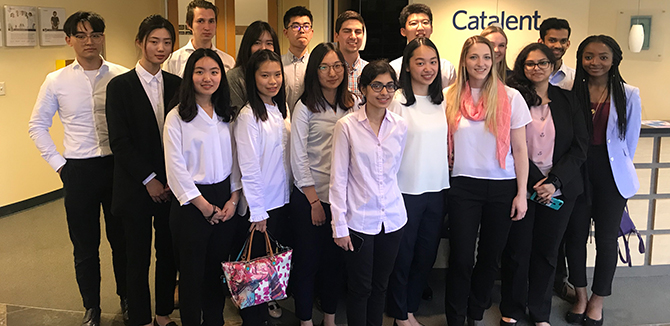 When students enroll in Northwestern's Master of Biotechnology program (MBP), many enter with no work experience and few connections to the pharmaceutical or biotechnology industries. That is why the program places such a strong emphasis on students building connections with industry professionals, and there is no better example of this than the biannual site visit trips.
The goal of the trip is to introduce students to different potential career paths within the biotechnology field and highlight similarities and differences between companies.
"The site visit trips are arranged to provide networking and educational opportunity for students," said Natalie Champagne, MBP assistant director of External Relations and Career Management. "It is my hope that students will get a glimpse of how the industry works by participating in a site visit trip." 
The MBP Spring 2019 site visit trip last month took 18 students to San Diego, where they learned about and connected with professionals from Gilead Sciences, Illumina, and Catalent. Each company provided tours to the students as well as opportunities to talk with and hear from current employees and researchers. 
"This trip gives students direct access to the labs of some of the most progressive companies in the biotechnology and pharmaceutical field," Champagne said.
Ruojia Shi is one of the MBP students who traveled to San Diego. As an international student, she described the trip as " a rare opportunity for me to go inside some top pharma companies in the United States and build my connections with industry insiders."
Prior to the trip, Shi was most excited about the career panels and opportunities to connect with current biotech employees. Afterward, she explained that those conversations were the most memorable and valuable to her own development. 
"From the conversations with the employees, I learned how important cooperation and flexibility are when working in a pharma company," Shi said. "In a pharma company, lots of work needs to be done as a team. Therefore, a person with high ability and good spirit to cooperate with others can help the team achieve the goals and meanwhile develop himself or herself."
During the discussions, Shi was introduced to a wide range of roles and responsibilities within the different companies. What stuck out to her was the employees who showed more flexibility seemed to be ones who had more impact and influence within the company.
"An employee who is flexible to do different work and quickly adapts to different positions can contribute more to the company and make progress more quickly than others," she said. "It is crucial to be flexible and never stop learning."
This was reinforced to Shi during her time at Gilead, where she saw automation in place of jobs she'd always thought humans needed to do.
"I believe automation is a promising area in pharma companies and has a bright future," Shi said, "but on the other side, I am thinking about what kind of skills I should develop to make myself irreplaceable by machines."
The San Diego trip was the fifth site visit trip for MBP students in the past three years. Previous MBP students connected with industry professionals in San Francisco, Boston, North Carolina, San Diego, and New Jersey.