My Summer Biotech Internship
Current MBP student Maya Halthore reflects on her time as a technology associate at Deloitte.
Maya Halthore spent the past summer in Chicago as a technology associate at Deloitte. She was given the opportunity to work on a client project, and she spent a lot of her time helping develop a clinical trial data management platform.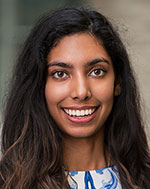 The experience was coordinated through Northwestern Engineering's Master of Science in Biotechnology program (MBP), which places an emphasis on hands-on learning opportunities. It was that emphasis on taking what you learn in the classroom and applying it that first appealed to Halthore.
Halthore discussed what she learned at Deloitte, what she's enjoyed about her MBP experience and how her summer experience helped prepare her for life after Northwestern.
What was it about MBP that first appealed to you?
What drew me to MBP was its focus on research. As someone who did not have any lab experience prior to joining Northwestern, I wanted to be able to have a fully immersive education where I not only learned about topics in biotech in the classroom but also had the chance to practice what I was learning in the lab.
Where did you do your internship?
I did my internship with Deloitte and was based in the Chicago office. I was a Technology Summer Associate.
What were your responsibilities at your internship?
In my summer internship, I was put on a client project for 10 weeks. I was working on a project team to help develop a clinical trial data management platform. This involved meetings with key business stakeholders, developing user journeys, and documenting user requirements.
What were two or three highlights from your internship?
A major highlight was to be put on an actual client project as a functional team member. It was great to be a part of a project team and to be able to contribute to and have an effect on one of Deloitte's ongoing projects.
Bonding with my fellow tech summer associates was also a big highlight. Deloitte and our recruiter organized many fun events for us to work together and get to know each other. This helped us build meaningful and lasting friendships as we bonded over our shared summer experiences. There were 15 other tech summer associates, and each one of them was a delight to get to know. I was the only intern who started on a timeline two weeks later than everyone else, yet they included me from the moment I got there and made the effort to dial into my end of the year presentation after they left. I even ended up going to Morocco and Paris with one of them.
Additionally, the Deloitte internship program offers multiple opportunities to meet and connect with many different people throughout the firm. On Fridays, I was able to take advantage of these events and the willingness of Deloitte practitioners to discuss their work by meeting with people from all kinds of industries for lunch, coffee, or just a quick chat.  
What were two or three things you learned from the opportunity?
I learned what it was like to work on site with clients and have that daily client interaction. In my previous job experiences, my interactions with clients were always through email or over the phone, so it was great to be able to build that relationship in person.
At the end of the ninth week, summer associates give a presentation to their mentors and other associates detailing the work we did during our internship.  Although I have given many presentations (especially as part of the MBP program), it was very interesting to adapt my presentation style and develop slides in the company's style.
Lastly, since I worked on an actual client case, it was great exposure to consulting and it gave me a great idea of whether or not I could consider consulting as a career. I got to experience some travel, working with clients, balancing firm projects, and the quick learning process that goes with consulting.
How important is the internship to the overall MBP experience?
For me, the internship was a great way to see how my biotechnology/industry knowledge can be applied to a potential future career. It helped me narrow down what I want to find in my career and helped me see what I have to offer after completing this program.
How would you describe your MBP experience?
My MBP experience so far has been wonderful, challenging, and fulfilling. I have enjoyed meeting the wonderful people in MBP, from the students to the staff, who all share the same passions. It has been a challenge to balance the coursework along with research and staying current on trends in biotech. It is fulfilling to be able to pursue a career in a field I am passionate about while also having the flexibility to take a variety of courses to expand my knowledge.