Forging a New Path Into Biotech
Van Cheung (MS '16) talks about her introduction to biotechnology and how it helped prepare her for a career at AbbVie.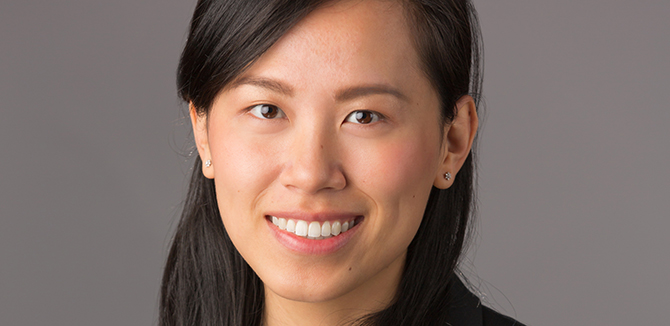 Van Cheung (MS '16) began her career in biotech somewhat unintentionally. Cheung originally wanted to be a doctor, but when medical school didn't work out for her, one of her professors recommended she look into biotech or pharmaceuticals as an alternative career choice, particularly if she still wanted to be involved in medicine or healthcare.
"I realized later that there is little to no overlap between being a doctor and a scientist in a pharma company," Cheung said.
Nevertheless, she began to look into graduate level biotech programs, and that is when she found Northwestern University's Master of Biotechnology program (MBP). The program was exactly what she wanted.
Today, Cheung is a scientist at AbbVie bioresearch center. She took a few minutes to talk about her path through MBP and how it got her where she is today.
What was it about MBP at Northwestern that appealed to you?
I applied to a few Master in Biotech programs across the country, and I was interested in MBP at Northwestern because of the smaller cohort size. After being at UT Austin for undergrad with more than 30,000 other students, I wanted to be more connected to my peers and faculty. In addition, the academic scholarship that MBP offered was a significant incentive.
How important was the heavy emphasis on research to you in your decision to enroll in MBP at Northwestern?
It definitely was crucial in deciding to join MBP. Being an international student at UT Austin, I was too busy catching up with course work and getting used to life in the states that I neglected undergrad research. The fact that MBP requires 1,000 research hours and helps us connect to preceptors was my chance to get the research experience I've always wanted.
How would you describe your experience in MBP?
Overall, it was definitely two years well spent.  
What were three highlights for you from your time in the program?
My research experience at Astellas, because this was my first research experience, and it happened to be an industry research position. I learned so many techniques, and also an appreciation for the efforts put into pharmaceutical discovery research.
My Co-op at Abbvie, which led me to my current role
Memorable, long lasting relationships with my some of my classmates and MBP faculty
What do you think is the biggest misconception about biotech?
I think the general public has a fear that biotech will ruin the "natural" world. GMO is given a bad label altogether. But what people don't realize are pretty much all biologic drugs that serve many unmet needs are produced by genetically modified organisms (cells). If you want seedless watermelon or seedless grapes, it's most likely a GMO. The public needs to be more educated about the benefits of GMO when done right, and potential harms/risks when done wrong. I think biotech companies are partially responsible for bringing that education.
What are your roles and responsibilities at Abbvie?
I'm currently a Scientist I in the Manufacturing Sciences, Purification group at AbbVie Bioresearch Center. In my role, I'm responsible for supporting late stage biologics (antibody and antibody-drug conjugate) manufacturing. Our group serves as the subject matter experts for the antibody downstream purification and conjugation process. Activities can range from day-to-day production support to process validation readiness and process improvement studies. I interact frequently with other functional teams to ensure that the manufacturing process is going smoothly and any validation activities are executed as planned.
In what ways are you able to apply lessons learned in MBP into your day-to-day job at Abbvie?
The soft skills I learned during my time with MBP are certainly critical. The program gave me the skills to work efficiently in teams, engage respectfully in technical discussions, and most importantly, the ability to present my work in front of large audience.
What advice would you give a prospective student considering MBP?
For me, MBP is a great gateway to the biotech industry. People from various backgrounds and interests came to the program and gained different benefits from it. As someone who's leaning heavily toward the technical side, I think the courses and research that MBP offered gave me a new perspective as a scientist and a critical thinker. But I've also seen other students who gained tremendous knowledge on the business/consulting aspects of the biotech industry. My advice would be to talk to the MBP faculty about your goals and interests to ensure that MBP is a great fit for you.