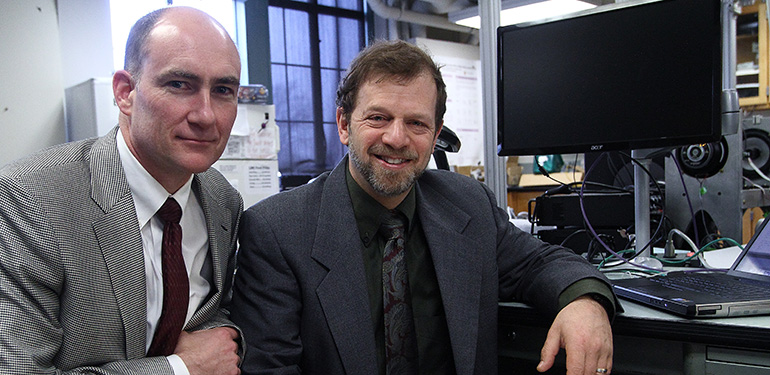 Faculty Awards & Honors
Recent Recognition
Jan Achenbach won the A. K. Rao Memorial Award from the Indian Society of Non-Destructive Testing.
Cate Brinson received the Nadai Medal in materials engineering from the American Society of Mechanical Engineers.
Jian Cao was elected a fellow of the International Academy for Production Engineering. She is one of only 15 fellows in the United States.
Ed Colgate was named an IEEE fellow.
Isaac Daniel received the Medal of Excellence, the highest award given by the American Society of Composites.
Horacio Espinosa received the Murray Medal, the highest honor from the Society of Experimental Mechanics, and was named a fellow of the American Association for the Advancement of Science.
Elizabeth Gerber received the IEEE Computer Society's Undergraduate Teaching Award and was named to Crain's list of 40 under 40.
Yonggang Huang received the Daniel C. Drucker Medal in applied mechanics from the American Society of Mechanical Engineers.
Elmer Lewis received the 2014 Wigner Reactor Physicist Award from the American Nuclear Society.
Wing Kam Liu received the 2014 grand prize from the Japan Society of Computational Engineering.
Todd Murphey was selected to join the 2014-15 DARPA Defense Science Study Group (DSSG). Past DSSG members from mechanical engineering include Cate Brinson, Kevin Lynch, Neelesh Patankar, and Mitra Hartmann.
Michael Peshkin created Mako Surgical, a surgical robotics company that grew out of Northwestern technology. He sold Mako Technology to Stryker in September 2013 for $1.65 billion.
John Rudnicki received the 2014 Engineering Science Medal from the Society of Engineering Science.
Jane Wang received the Captain Alfred E. Hunt Memorial Best Paper Award.
More in this section