Building Community with 'ME Connects'
Presentation series spotlights student groups with strong department ties
While this academic year has seen many faculty and students separated physically by the COVID-19 pandemic, the Department of Mechanical Engineering is taking steps to ensure its community feels closer than ever.
Launched during Winter Quarter, the ME Connects virtual presentation series builds connectivity between mechanical engineering students, faculty, staff, advisory board members, and alumni, while promoting Northwestern undergraduate student groups featuring a strong department presence. During each 30-minute Zoom event, student leaders deliver short talks about their organizations, followed by an interactive discussion with attendees.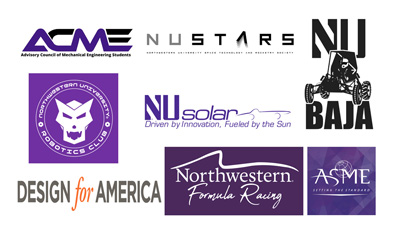 "It has been important to build a strong department community during this challenging year," said Wei Chen, Wilson-Cook Professor in Engineering Design and chair of mechanical engineering. "These presentations spotlight student groups led by our students, which will help them recruit new members, increase awareness amongst faculty, and spark dialogue between faculty and students and the rest of our community."
The series kicked off in February with a presentation by Sophia Wong ('22) and Daniel Oh ('22), president and vice president, respectively, of the Advisory Council of Mechanical Engineering Students (ACME). Wong and Oh discussed how ACME fosters connection between the department and mechanical engineering students by delivering feedback to leadership constructively, creating an environment that promotes unity and positions students for success.
By bringing together the department community, ME Connects reinforces the importance that student groups play in enriching the learning experience of Northwestern mechanical engineers.

"Highlighting the varied ways that students can get involved is important," said Robert Shaw ('70, KSM '81), chair of the mechanical engineering department's advisory board. "Much of their education comes from outside the classroom. The teamwork and management skills they gain are important parts of their education."
Other ME Connects presentations included:
Upcoming lectures during Spring Quarter will feature presentations from:
For more information about upcoming lectures, please contact Manohar Kulkarni, assistant chair and clinical full professor of mechanical engineering.