Academics

  /  

Courses

  /  

Course Descriptions

MECH_ENG 451: Micromachining
Quarter Offered
Winter : MW 2:30-3:50 SYNCHRONOUS ; C. Sun
Prerequisites
None
Description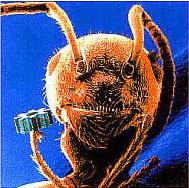 Fundamental fabrication issues for microscale components used in MEMS/Nanotechnology. Understand and designing microfabrication processes based on photolithography and deposition/etching steps.
Who Takes It
Tech or other science major graduate students who plan their research based on micro/nano systems approaches. Those who want to gain broad knowledge about the new micro/nano technology trends.
What It's About
Micro Electro Mechanical Systems (MEMS) has demonstrated powerful capabilities in many fields of engineering and science. MEMS-based commercial products are already in the market, replacing existing technology, or creating new possibilities. This technology is firmly based on a unique manufacturing paradigm, micromachining. Micromachining is a core technology that enables the MEMS and related new approaches in engineering and science. This course will cover the fundamental fabrication and theoretical issues of the micromachining critical in micro/nano systems applications.
Introduction:

CMOS Process
Micro-Electro-Mechanical-Systems(MEMS)
Microsciences

Theory:

Lithography
Doping, Ion implantation
Silicon oxidation
Crystallography
Etching

Microfabrication:

Bulk micromachining
Surface micromachining
Soft micromachining

New trends:

Nanotechnology integration
Biotechnology integration
Optical MEMS

Example applications:

Microsensors
Microfluidics
On-chip DNA analysis
Analyses of existing MEMS.

Hands on demonstration:

Cleanroom tour
Lithography
Wet & dry etching
Sample inspection
Related courses