New Fellowship to Honor Leon M. Keer
The fund will be used to provide financial assistance to doctoral-level mechanical engineering graduate students
The family of the late Leon M. Keer has established the Leon M. Keer and Family Fellowship to provide financial assistance for doctoral-level mechanical engineering graduate students.
Students supported by the fund will be known as Keer Fellows. The fellowships will support students experiencing financial challenges due to health or family factors while finishing their doctoral degrees. The support can include, but is not limited to, stipends, some or all of the costs associated with presenting a paper, or travel and associated expenses to attend a technical meeting.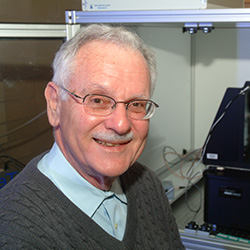 The fellowship was founded by Leon M. Keer's wife Barbara Keer, daughters Patricia Keer Munro and Jacqueline S. Keer, and sons Harold N. Keer and Michael D. Keer.
"We chose to establish this fellowship for three reasons. We want to honor Leon's devotion to his students and colleagues, as well as his decades of service to the university. As a family of alumni, we wanted to recognize our family's connection to Northwestern," the family said. "Finally, Leon, Patricia, and Harold received fellowships during graduate school, so our family knows well how funding students directly helps them overcome difficult circumstances so they can better complete their graduate studies and contribute to the field and society."
Leon M. Keer, Walter P. Murphy Professor Emeritus of Civil and Environmental Engineering and Mechanical Engineering, a leader and prolific researcher on contact and fracture mechanics, and tribology, died on January 12, 2021, at the age of 86.
In 1964, Keer joined the McCormick School of Engineering as an assistant professor of civil engineering, with research interests focused on engineering mechanics and tribology. A prolific researcher in the mechanical engineering and civil engineering departments, he published nearly 400 scholarly articles on topics such as elasticity, fracture mechanics, and contact stress in structural materials. He also served as editor of the Journal of Applied Mechanics and associate editor of the Journal of the Engineering Mechanics Division, Mechanics of Materials, and Mechanics Research Communications.
During a five-decade career at Northwestern Engineering, Keer was an active member of the community. He taught more than a dozen classes on mechanics and structures, while also serving on numerous McCormick and University committees. An adviser to 55 PhD students and 22 master's students, Keer also served as Northwestern Engineering's associate dean for research and graduate studies from 1985-92 and was chair of the Department of Civil Engineering from 1992-97. Keer was highly respected by his colleagues, co-workers, previous students and collaborators, and friends and remained actively engaged on research programs until his passing. Keer will also always be remembered by the Northwestern Engineering community for his characteristic smile that shone with his wisdom, kindness, and fairness.