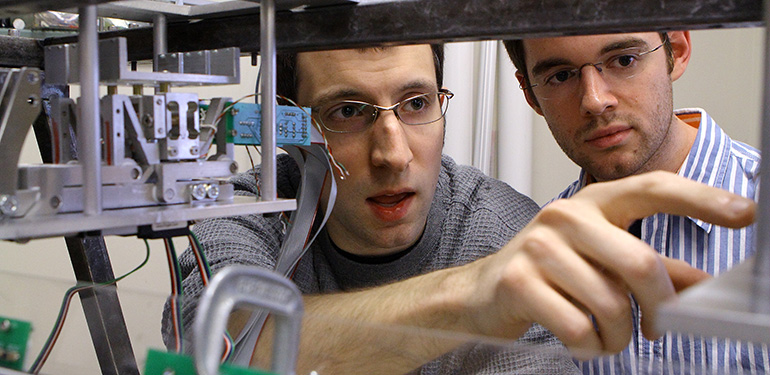 Academics

  /  

Undergraduate Study

Prospective Undergraduate Students
One of the most valuable experiences available at Northwestern is the opportunity for undergraduates to work with faculty one-on-one in cutting-edge research projects. Motivated and capable students find faculty pleased to provide these opportunities, sometimes as part of externally-funded research projects and sometimes on projects proposed by the student.
Learn more about mechanical engineering
The McCormick Experience
During their freshman year, students work in small teams in their Design Thinking and Communication class. One DTC project created by mechanical engineering students was an interactive puzzle for otters at the Shedd Aquarium, which can be seen in the 2014 LiveBIG: Shedd Partnership Feature Video.
Design Thinking and Communication is part of McCormick's Engineering First® program, an innovative curriculum for first-year engineering students at Northwestern. In addition to Design Thinking and Communication, students take four basic engineering courses covering:
linear algebra
MATLAB programing
engineering mechanics
statics
dynamics
differential equations
Real Projects for Real Clients
Throughout their time at Northwestern, students work on real-world projects from individuals, nonprofits, entrepreneurs, and industry by designing, building, and testing their ideas.
Past projects have involved collaborations with organizations such as:
Innovative Project Ideas
Some of the students develop their own projects. For example, a student who had a broken finger was able to use the knowledge and skills she learned as a mechanical engineering design major to create her own custom hand-splint.   
Extracurricular Activities
Outside of the classroom, students enjoy participating in clubs, such as the technically-oriented Solar Car Team, the sustainability-focused Engineers for a Sustainable World (ESW), and the Entrepreneur@NU.
Design
Regardless of the students' specific focus, design plays a large role in the mechanical engineering program in terms of both course work and research. Mechanical engineering students at Northwestern have the opportunity to work in cutting-edge research facilities and centers, including the Integrated DEsign Automation Laboratory (IDEAL) and the Center for Robotics and Biosystems.
Students may also collaborate extensively with the Segal Design Institute, which administers the Design Thinking and Communication course. Students work closely with faculty beginning their freshman year and culminating with some senior design projects. The Segal Design Institute also offers a bachelor's degree in Manufacturing and Design Engineering as well as an undergraduate Segal Design Certificate.
After Graduation
Northwestern students earning a BS in mechanical engineering go on to careers in both industry and academia. For example, recently our students took jobs at many well-known companies, including SpaceX, Accenture, McKinsey & Co, Proctor & Gamble, General Motors, Motorola, Boeing, DuPont, Lockheed Martin, IBM, General Dynamics, and GE Aviation.
Several students are also continuing their studies in MS and PhD programs at prestigious universities around the country, including Northwestern.
More in this section