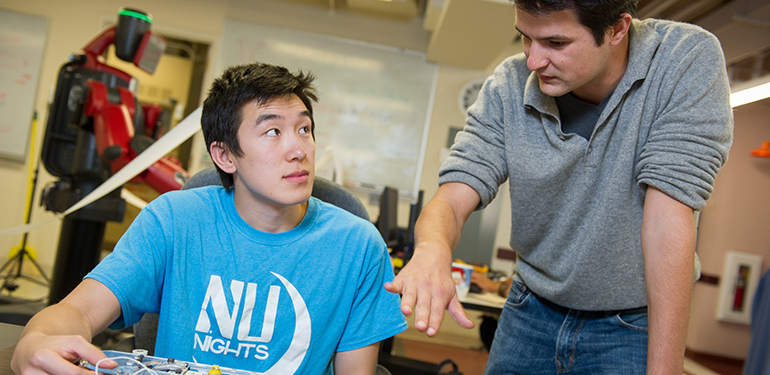 Undergraduate Study
Undergraduate study in mechanical engineering at Northwestern University starts with the innovative, integrated Engineering First® curriculum, which gives students a solid preparation in math, science, and engineering basics. It also provides students with hands-on experience working with real clients to design products and systems that solve authentic problems. With this background, fundamental mechanical engineering subjects are studied, such as dynamics, solid mechanics, fluid mechanics, and thermodynamics, leading to cutting-edge courses such as computer-aided manufacturing, robotics, micromechanical systems, and energy principles.
Throughout the curriculum, design courses, laboratory courses, and project courses allow students to acquire a taste for the complex task of designing, analyzing, and building a device. Supporting courses in allied fields of science and engineering broaden the student's technical proficiency, while elective courses in social sciences, fine arts, history, and philosophy broaden the student's background.
The mechanical engineering program is accredited by the Engineering Accreditation Commission of ABET (www.abet.org).
For prospective Undergraduates 
Learn more about:
More in this section