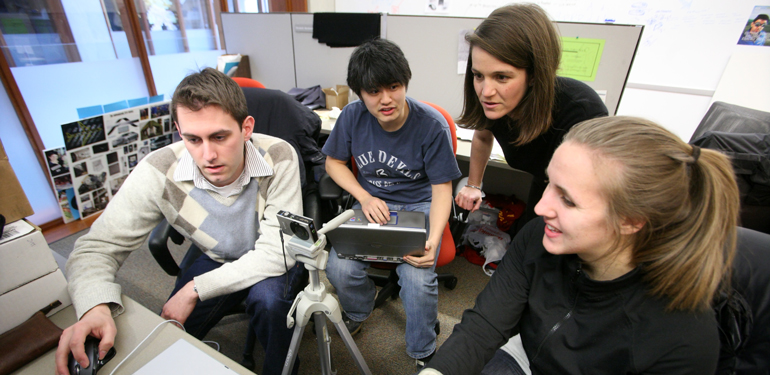 Graduate Study
Our graduate program emphasizes excellence in education and research. Our students are exceptionally well-prepared for academic and professional success and become leaders in their fields.
The department offers a wide variety of programs of study leading to the master of science (MS) and doctor of philosophy (PhD) degrees. We combine innovative teaching and pioneering research in a highly collaborative environment that transcends traditional academic boundaries. Our graduate programs provide a solid foundation for careers in industry, research labs, and academia.
Northwestern's tradition of interdisciplinary research provides students with exciting opportunities to work with faculty members in cross-cutting research areas that build from core engineering disciplines. For more information on research activities, see our Mechanical Engineering Research web site.  
Collaborative and Interdisciplinary 
ME faculty and students are engaged in collaborative projects with researchers from every other engineering department and from around the university. Interdisciplinary cluster programs, like the Predictive Science and Engineering Design program and the Design Research Cluster, provide opportunities to work with colleagues with different technical perspectives. A number of ME faculty are also affiliated together with faculty from across McCormick in the Theoretical and Applied Mechanics (TAM) program.
Other cross-disciplinary programs include Northwestern's Master of Science in Robotics (MSR), Master of Science in Product Design and Development (MPD2) and the Segal Design Institute's Master of Science in Engineering Design and Innovation (EDI) program. 
Flexible 
Graduate students are encouraged to take courses from across engineering and science disciplines to build a program that accommodates their own research interests and talents. MS concentrations are available in energy and sustainability, simulation-driven engineering, robotics, and other in-demand specialization areas.
Diverse
Among top engineering schools, McCormick is highly ranked in our percentage of female and underrepresented minority students. Northwestern, McCormick, and the ME department have developed numerous initiatives to ensure that students of all backgrounds feel welcome and respected, and are able to fully engage in the learning and research community.
Supportive
Work-life balance is essential to a fulfilling graduate education experience. The ME Graduate Student Society (MEGSS) plans social events and provides mentoring and guidance, and Northwestern offers services and benefits to nurture students' mental, emotional, and physical well-being. Outside the classroom and lab, ME student life is enriched by the cultural diversity of Northwestern, Evanston, and the Chicago area.
More in this section