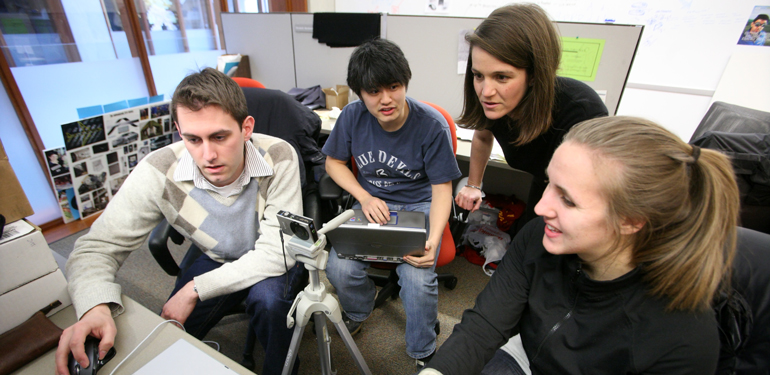 Graduate Study
Northwestern's graduate students in mechanical engineering come from some of the most competitive institutions in the United States and around the world. Our graduate program emphasizes excellence in education and research. Our students are exceptionally well-prepared for academic and professional success and become leaders in their fields.
The department offers a wide variety of programs of study leading to the MS and PhD degrees. We combine innovative teaching and pioneering research in a highly collaborative environment that transcends traditional academic boundaries. Our graduate programs provide a solid foundation for careers in industry, research labs, and academia.
Northwestern's tradition of interdisciplinary research provides students with exciting new opportunities in traditional as well as interdisciplinary areas, as you may see by perusing our research areas.
MS & PhD Degree Programs
The Department of Mechanical Engineering offers graduate programs leading to the master of science (MS) and the doctor of philosophy (PhD) degrees. These programs involve both research and course work. Browse this section to learn more about the application process and deadlines for each program.
Students in the MS and PhD programs arrange their study and research in association with individual faculty members and often with the various interdepartmental and special programs associated with the Master of Manufacturing Engineering Program, the Center for Surface Engineering and Tribology, the Center for Quality Engineering and Failure Prevention, and the Program in Theoretical and Applied Mechanics.
Flexible Curriculum
Graduate students are not required to follow a rigid curriculum; each student may arrange a curriculum that accommodates individual needs, talents, and interests while satisfying the basic degree requirements. The basic degree requirements are designed to ensure that the students develop a rigorous appreciation of mathematics and have a broad exposure to fields of engineering and science outside of their immediate area of interest.
Interdisciplinary Faculty
ME faculty are involved with many cross-disciplinary programs, including Northwestern's Master of Science in Robotics (MSR) and Master of Science in Product Design and Development (MPD2) programs. The MSR program has a strong focus on robotics and uses courses from multiple departments. In addition, it effectively has six courses that focus on research and projects. The MPD program is designed for professionals eager to master the concepts and tools of project design and development.
ME faculty are also involved with the Segal Design Institute's Master of Science in Engineering Design and Innovation (EDI) program. This program is intended for recent engineering graduates seeking to lead the design of future products, services, and technologies.
More in this section