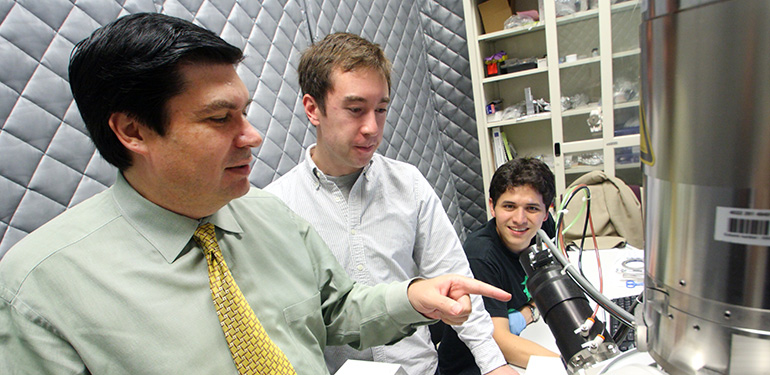 About the Department
Why Choose Northwestern Engineering?
The McCormick School of Engineering combines innovative teaching and pioneering research in a highly collaborative environment that transcends traditional academic boundaries. In addition, Northwestern University provides students and faculty exceptional opportunities for intellectual, personal, and professional growth in a setting enhanced by the richness of the city of Chicago.
Learn more about the McCormick School of Engineering
Learn more about Northwestern University
Why Choose Mechanical Engineering?
Here at the Department of Mechanical Engineering, we pursue the mechanical engineering of the future. Students learn the fundamentals of mechanical engineering by focusing on core disciplines in mechanics, manufacturing, and systems, together with essential areas of mathematics and physical sciences. Students then dive into cross-cutting topics such as nanomaterials, advanced sensing, adaptive and responsive systems, rapid prototyping, molecular rotors, and biomechanical interfaces.
With its roots in mechanical engineering, a hallmark at Northwestern is design. We provide outstanding coursework, projects, and activities in which fundamental course knowledge is synthesized and applied in a holistic fashion with wide-ranging design projects. We offer outstanding research opportunities, with a strong culture of collaboration that enables our students and faculty to tackle the world's most important and difficult technical challenges.
Get Involved
To create future leaders, our department offers premier programs for undergraduate and graduate studies that provide a solid foundation for careers in industry, entrepreneurship, research, and academia. We maintain an atmosphere that has all of the advantages of a large university, including world-renowned professors doing state-of-the-art research, yet maintains small class sizes that enable personal attention from our faculty.
Our students engage in a variety of significant service programs outside the classroom, ranging from Design for America, founded by one of our faculty members, to Engineers for a Sustainable World. Our students have led the installation of solar panels on our buildings and founded start-up companies to meet needs of individuals and industry. The future of mechanical engineering is the design of creative and sustainable systems that integrate traditional mechanical engineering knowledge with other disciplines to invent the engineering masterpieces of the 21st century.
Campus
A major private research university, Northwestern has 6,500 graduate students and 7,500 undergraduate students. The Evanston campus, located 12 miles north of downtown Chicago, is home to the undergraduate programs and graduate programs in engineering, management, the arts and sciences, music, speech, education and social policy, and journalism.
Learn more about Northwestern's campus
Visit Northwestern
The McCormick School of Engineering encourages all interested students and families to set up a time to visit Northwestern. Get more information about visiting the McCormick School of Engineering.
Schedule a campus tour through the Office of Undergraduate Admission

More in this section